Billed as the world's largest 116'' (2.5 x 1.4M, 50 micron thick) Projected Capacitance touch screen foil it's going to see use at the Inovatec Innovation and Technology Exhibition in Brazil.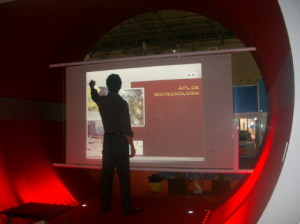 The ViP Interactive Foil has, we are told, a unique ability to work through up to 25mm of solid glass/acrylic and make it "the ideal product for a safe and secure public interactive display solution"
Visual Planet's value added reseller Movin Media in Brazil combined the man sized touch foil with a rear projection screen mounted onto acrylic to create the centerpiece of the exhibition and encouraged event visitors to touch the display screen which provided navigation through exclusive videos and images.
Marcelo Mandeli of Movin Media claimed "In its first event in Brazil the 116'' touch display was a great success. People were fascinated with the possibility of interacting and touching such a big screen."
Marcelo also explained "Younger people especially were amazed and interested with playing with the new technology finding it fun and easy to navigate with just a touch."
Visual Planet have pioneered this original method of recognising a user's touch through glass and any other non-metallic material.
About the ViP Interactive Foil™

The ViP Interactive Foil™ is supplied as a light weight optically clear sensor foil which is laminated to the required non metallic surface to create a touch surface. It can be made in bespoke sizes from 30" to 116" to fit a wide range of design requirements.

Traditional touch technology performance can be severely affected by dirt, dust, moisture and changes in lighting conditions, not a problem here as the ViP touch system is safely fixed behind the glass. The ViP touch foil does not use camera or IR based detection so is not affected by sun or internal lighting changes.

The ViP Interactive Foil™ uses an XY array of micro fine sensing wires connected to a hidden and protected electronic controller board. This XY grid projects a field through any non metallic material that upon the user's touch communicates the position with the display system.