Adrian J Cotterill, Editor-in-Chief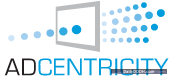 ADCENTRICITY is starting to spend some of its hard earned VC investment with an announcement of a new office and seven new staff in New York.
NEW YORK CITY, NY, May 15, 2008 – ADCENTRICITY, Inc. ("ADCENTRICITY"), a North American Digital Out Of Home ("OOH") media sales service, announced today that it has opened its New York City office to service the growing demand for Digital Out Of Home media planning services in the United States. The New York Office expands ADCENTRICITY's ability to offer immediate sales and support services to its growing base of customers and prospects for national and regional campaigns.

"The new office will allow us to spend more ongoing, quality time and effort with our network, integrator and research partners, while boosting service and support to the agency and advertiser community." said Rob Gorrie, President of ADCENTRICITY. "We have seen significant growth and interest in our services and solutions in New York and have expanded our resources to accommodate that need".

The new office is located at:

ADCENTRICITY, Inc
145 West 45th Street, Suite 701
New York, New York 10036
Media Sales: William Nye 1.866.611.3664 x 107

In addition to the New York office opening, ADCENTRICITY has expanded its New York sales force significantly, announcing seven new senior sales executives have been added to the company's ranks in New York.

"We've been fortunate in our ability to attract great new senior talent to the company in the last few months." said Jeff Atley, VP, Sales & Marketing. "This is the first step in our goal to provide additional sales support in the United States. Coverage in additional US and Canadian markets will follow through the course of 2008."
About ADCENTRICITY, Inc.
ADCENTRICITY is a North American media sales and planning service dedicated to the fast growing market of Digital Out Of Home advertising networks. The company provides targeted digital media opportunities with 74 Network partners throughout North America, in 16 distinct categories of venue type, such as grocery and doctor offices. ADCENTRICITY allows Brands and Agencies to plan and buy media by demographic, geography and channel and delivers a "1 Plan, 1 Buy, 1 Bill" media solution, saving time and money for all of its partners.