Gail Chiasson, North American Editor
If you've ever been discouraged with your digital out-of-home displays because they didn't allow creative content to show that extra tall building, or a fashion model's outflung arm, that weird shaped logo, or that extra wide cityscape, fear no more.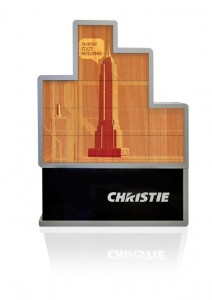 After two years of intense R&D, Christie Digital Systems, one of the world's leaders in visual solutions for business, entertainment and industry, has launched the unique MicroTiles digital display technology that allows the creation of a virtually seamless digital canvas in almost any size or shape AND that offers spectacular, crisp visuals at any distance.
Breakthrough modular technology allows Christie MicroTiles to be stacked and clustered like building blocks to create display walls using an entirely new, advanced optical design that produces unparalleled levels of brightness, contrast and color reproduction – this is definitely not LED, LCD or PDP, Ed
The Christie MicroTiles system represents a huge step forward in large-format digital display technology, offering superior color and image reproduction, the widest possible viewing angles, and a near absence of seams on display walls, with only a 1mm gap between the tiles.
The groundbreaking LED powered DLP-based system is designed for long, reliable commercial use in public areas, with no lamps or other consumable parts to replace.
The LED light engine, a key component of MicroTiles, is rated at 65,000 hours to half brightness usage, or nearly 7.5 years of continuous operation!
Further, with a screen size of 16" (408mm) wide x 12" (306mm) high, the tiles also feature a shallow depth of only 10" (260mm) and require just 2" (50mm) of minimal clearance for rear ventilation.
Of real benefit: Christie engineers designed the MicroTiles to be fully and easily serviced from the front.
The tiles are 'self-aware', meaning that time-consuming and costly color calibration needed to keep conventional 'video walls' looking uniform, is automatically completed by the sensors built into the MicroTiles.
And, to top it off, although the engineering behind the tiles is extremely sophisticated, these walls of tiles are controlled by a simple unit that processes the signal from the most popular digital signage and media players.
Randy Byrd, President and CEO, Sensory Interactive of Towson, Maryland, one of the technology and visual design experts who've seen sneak previews this year, describes this system as "one of the wonders of the world in displays."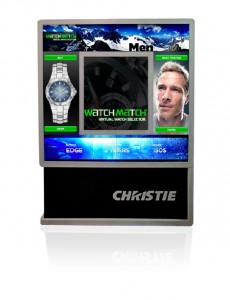 "MicroTiles represent a distinct revolution in display technology, that allows users to create their own digital canvas or digital wallpaper," says Bob Rushby, the co-inventor and chief technology officer at Christie's engineering headquarters in Kitchener, Ont., Canada, which did the R&D for Microtiles.
"With MicroTiles, users can express their creativity and vision, and assemble the displays in ways that have previously been unattainable using current flat panel LCD, plasma or LED walls," Rushby says.
"Assemble the tiles any way you like, take them apart and re-assemble them in a new configuration, and they 'recognize' each other every time and adjust the image automatically."
The spectacular image quality and modular flexibility of the MicroTiles system opens up wide possibilities for companies charged with designing and creating large, vivid visual displays for architectural installations, out-of-home advertising, event centers, command and control facilities and retail environments.
MicroTiles can easily be incorporated to fit within the physical constraints or opportunities of any building. No need to compromise!
"Christie MicroTiles open up a whole new world of possibilities for the various display markets," says Rushby "They offer an innovative, visually striking digital solution to deliver messages and make them memorable."
Christie MicroTiles will be on display at these North American events:
IAAPA/G2, Nov 17-20 in Las Vegas, Electrosonic booth # 5659 in the Theming and Tech Pavilion
I/ITSEC, Nov. 30-December 3 in Orlando, Christie booth # 1449
Christie MicroTiles Product Showcase, Dec. 9 in New York City.
Christie MicroTiles will also be launched in Europe at ISE, Feb. 2-4, 2010, and in Asia in the first quarter of 2010.
For the online press kit – or to learn how to try and register for the December 9th product showcase in New York, visit www.christiedigital.com/microtiles.
About Christie

A leading innovator in film projection since 1929 and a pioneer in digital projection systems since 1979, Christie has an established reputation as a total service provider and the world's single source manufacturer of a variety of display technologies and solutions. Since acquiring Vista Control Systems Corp., in July, 2007, Christie now offers complete and advanced solutions for cinema, live venues, control rooms, business presentations, training facilities, 3D and Virtual Reality, simulation and education as well as industrial and government environments.