Adrian J Cotterill, Editor-in-Chief
Observant readers will know that we have been hammering home the message this year that "Shape is the new king" – we first brought that phrase to the world's attention back in Amsterdam at the ISE DOOH Summit in February 2009.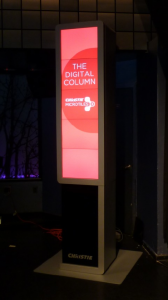 Something my old boss at Intel used to tell me is "why predict the future when you can invent the future" and as we have been involved in helping Christie Digital for almost two years now in bringing the ground breaking MicroTiles screen display system to market it is something we always knew would happen and would come to pass.
Christie Digital's formal introduction this week of MicroTiles is what we have always said it would be, a major inflexion point for the screen industry.
MicroTiles will have a major impact in the architecture, rental / staging and control room space but will also see a major USD 400 Million dollar turnover business, i.e Christie Digital, enter the Digital Out of Home industry sector.
Make no bones about it, this is a company that is going to be a major player in the marketplace.
Traditional screen companies who have very much rested on their laurels, and simply driven down price but not innovated will likely see their sales fall off a cliff as retailers especially see what can be done with MicroTiles.
Welcome to DOOH, Christie Digital!