Adrian J Cotterill, Editor-in-Chief
Two months ago we made mention that we were adding (INGG.L) Inspired Gaming Group PLC to our 'watch list' following the UK's Alternative Investment Market (AIM) and said…
Inspired Gaming Group PLC are we believe currently testing a number of screen initiatives in the leisure industry sector and in the next month or two will be making some big announcements with regard to a collaboration in our industry sector.
Well strangely enough, Clear Channel Outdoor, has just announced a partnership with them to install a nationwide network of premium digital screens in pubs and bars!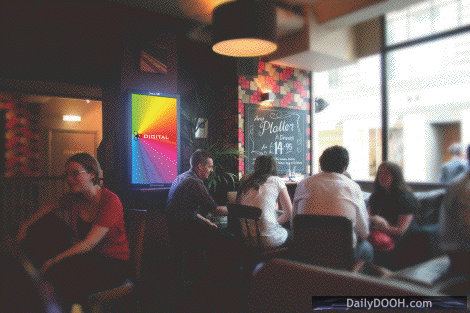 We were lucky enough to have a sneak preview of both the technology and the business plan behind this. Rob Atkinson, Managing Director at Clear Channel Outdoor UK told us "Clear Channel Socialite will be the first premium in-bar advertising screen network of high quality, portrait digital poster sites with the capability of streaming static, animated, full motion video and real-time content in pubs and bars.
"Clear Channel Socialite will deliver a captive audience in an opinion-forming environment through a digital product that will be second to none in its flexibility and accountability."
Rob gets both the categorisation correct – yes it is a Captive Audience network, (sadly perhaps) the average dwell time in UK pubs and bars is just over 2 hours and yes it is to our mind at least a premium network (these are digital posters or digital panels NOT tied to the sports / television usually found in such venues).
The service itself will launch in September 2008 with a target of some 1,000 digital screens to be in place by the end of the year. The network could reach more than 3,000 venues at some future point in time.
The choice of Inspired Gaming Group as a partner is an interesting one – and is similar in many ways to Clear Channel's choice of Vision Media Group International (VMG) as a partner in the Shopping Mall sector.
Clearly (no pun intended) Clear Channel have no issues with partnering with much smaller organisations. The Inspired Gaming Group, like many of those on AIM has struggled recently and it will be interesting to see whether this deal does anything to pull them out of the doldrums.
The Inspired Gaming Group already has a presence in more than 18,000 venues across the UK including major pub groups such as JD Wetherspoon, Mitchells & Butlers, Enterprise Inns and the Spirit Group.
About Inspired Gaming Group

Inspired Gaming Group plc (INGG) is the leading player worldwide in the Open Server-Based Gaming (Open SBG™) market and is also the leading provider of analogue and Open SBG™ machines in the UK for the leisure and gaming markets.

The Group provides Open SBG™ software systems and Open SBG™ digital and networked terminals in ten countries today. The Group manages over 82,000 machines across the UK, with half of these now connected through Inspired's Open Server-Based Gaming platform, OGAPI. The Group also has over 15,000 machines connected to its network overseas.

The Group's customer base includes pubs, bars, casinos, bingo halls, licensed betting offices, holiday parks and other out of home leisure venues. Key customers include the major pub companies and gaming companies such as William Hill and Gala Coral Group.

The Group is also the leading provider of Fixed Odds Betting Terminals, itbox skill gaming terminals, and other Open SBG™ variants.