Guest Contributor, Michael Mascioni
Mobile digital signage presents many opportunities for marketers, but also significant challenges. That message underlined Donna Boyer's presentation at the Digital Signage Show in N.Y. on 10th November 2009.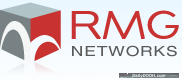 According to Boyer, V.P. of Product Management at RMG Networks, two key factors must be taken into account when developing mobile digital signage:-
utilizing the right technology
developing the right customer experience
As Boyer stressed, "there is no single right approach" to marketing-oriented mobile digital signage- a choice should be made based on "the advertiser's needs" and "the context" in which the mobile signage is deployed.
She advised attendees to keep in mind that consumers have three main expectations concerning mobile digital signage:-
they expect context
they expect utility and compelling entertainment
they expect to be in control
In this context, "the iPhone has completely changed consumer behavior," with consumers using the web on their phone regularly for such applications as "news, social networking, mobile video, and music," she pointed out.
SMS mobile signage is best suited to such applications as "sweepstakes, polling, and couponing," Boyer observed.
It's particularly useful for "local couponing and building a database of phone numbers," she added. However, it "doesn't typically work well as part of a broader campaign."
Boyer highlighted the positive response to an SMS mobile signage campaign called 'Nicholas vs. Cancer' her company ran for St. Jude, which "drove a significant number of donations to that client."
Boyer believes SMS mobile signage is more suitable for "smaller companies and non-profit organizations," but has mixed value for larger companies.
Eventually, she feels that signage will be adopted on a broader basis. Boyer cautioned attendees about the challenges of implementing Bluetooth mobile signage, especially regarding technical issues.
She stressed that it's particularly important to "format material correctly" in Bluetooth mobile signage campaigns so that it "works properly on the mobile phone" utilized for those campaigns.
Boyer also noted the need to establish clearly beforehand the kind of content that will be delivered in a Bluetooth signage campaign.
In her view, video content, especially exclusive content, works well on Bluetooth mobile signage campaigns. She contended that Bluetooth/wi-fi mobile signage campaigns with good, exclusive content will generate higher adoption rates.
Boyer called attention to results from a number of Bluetooth/wi-fi mobile signage campaigns mounted by RMG, including a campaign for the TV show 'Dancing with the Stars' which she claimed was very successful.
According to her, Bluetooth and Wi-fi signage (not SMS) campaigns run by RMG for such clients as ABC, Electronic Arts, and HISTORY had a strong impact- on average, 10% of the audience in those campaigns set their mobile phones to "discoverable," and "28% of that audience" opted to receive the mobile content download, which translated into a "net download rate of 3% of total venue traffic."
The campaigns utilized Blue Bite's Bluetooth/wi-fi technology.
Boyer emphasized the importance of executing Bluetooth/wi-fi mobile signage campaigns that generate "enough volume to meet advertiser needs."
Boyer also addressed strategies for employing mobile signage campaigns based around interactive games. She noted that such campaigns are great for cafes and bars but aren't typically effective in locations consumers quickly pass through, such as grocery stores.
In this regard, Boyer discussed an AT&T-sponsored game developed by LocaModa, which ran on a number of digital signage networks.
According to her, "our network drove the most in-venue interactions" for that game.
Boyer predicted that game-oriented mobile signage campaigns will become "part of broader experiences with a network effect."