Gail Chiasson, North American Editor
JiWire is offering free Wi-Fi access In airports and hotels to Bing customers.
Bing, Microsoft Corp.'s decision engine, recently launched a new advertising campaign with JiWire's Ads for Access program that allows Wi-Fi users the opportunity to perform a Bing search in exchange for free Wi-Fi.
This U.S. national campaign is running in premium Wi-Fi hotspots in airports and hotels reaching business travelers and affluent consumers.
Initial results show the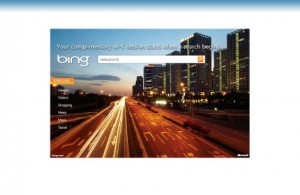 Bing Wi-Fi media campaign is significantly increasing consumer attention with an average engagement rate of almost 30% across the Ads for Access program, with some locations performing as high as 45%. In addition, consumers are returning to Bing to perform multiple searches during their same session.
Ads for Access is an opt-in program that allows advertisers to create a value exchange for the user, which drives deeper audience engagement. The Bing campaign was developed by UM (formally known as Universal McCann), in collaboration with JiWire. Goal of the campaign is to bring the Bing search experience to new users.
Bing customized JiWire's Ads for Access platform to create a 'search for access' program offering a session of free Wi-Fi access in exchange for a search on Bing. Users are presented with their search results, and they can then enjoy free Internet service for a specified time period.
"People are creatures of habit and one of the goals of this campaign is to open people up to new ways of finding what they are looking for on the Internet," says Jeff Bernstein, senior vice president at UM. "JiWire's media channel serves our goal because it gives people an incentive to try Bing and let the engine speak for itself."
The campaign is based on the premise that once people experience Bing first-hand they will come back and use the engine again. (Bing's steady growth demonstrates this is the case: Nielsen Company's search statistics show that Bing's share of searches increased to 10.7% in August.)
McCann and Microsoft are pleased both about the campaign's results and future opportunities to connect with JiWire's audience through the Ads for Access opportunity, because the program has been extended to run through Q4 2009.
"We're excited that our collaboration with JiWire and UM on the Wi-Fi campaign is showing positive results," said Eric Hadley, general manager of online audience business consumer marketing at Microsoft. "This campaign is an innovative way to increase trial of Bing and show how it helps people make smarter and faster decisions."

"The Bing campaign takes advantage of our unique and extensive 'on-the-go' audience and its significant need to connect to Wi-Fi to get information," says Dave Courtney, CEO of JiWire. "This is a great example of how we work creatively with leading brands like Microsoft to develop unique and innovative programs built entirely around driving engagement with this highly coveted audience."
(Ed note: We see that #1 search engine Google (and Bing rival) has now decided to offer free WiFi access in 47 U.S. airports from now through the holiday season.)