Gail Chiasson, North American Editor
Akoo International Inc., for which Arbitron is now measuring the audience (see our Nov. 18/09 article), has been deploying its 'social music television network' since July,'08, and now has approximately 150 locations in the top 53 DMAs in 30 states.
"We're mainly in the dining areas of premier shopping malls (including Simon Property Group and Macerich malls) and college campuses, places where there's at least a 30-minute dwell time," says Andy Stankiewicz, executive vice-president and chief marketing officer of Akoo, located in Elmwood Park, a suburb of Chicago.
In each location,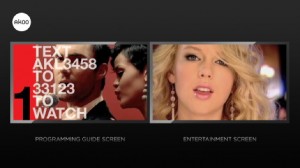 Akoo has between 10 and 20 46" screens, always run in pairs, plus an audio system. On the left screen of each pair is a guide to programming, a code which viewers can enter on their mobile to 'order' the music video they'd like to see, some customized content and interviews, while the right hand screen runs videos with the audio adjusted to the noise level of the location.
Akoo's content partners with whom it has strategic licensing agreements include all four major record labels: Universal Music Group, Sony Music Entertainment, Warner Music Group, and EMI. New videos are added to the playlist as soon as they are released, and the 'menu' of available videos is also listed on a table placemat.
"The evolving media landscape has reshaped the communication needs of major brands," says Stankiewicz. "Akoo is driving media innovation in the OOH space by combining premium video content with an interactive platform that facilitates social engagement and greater advertising effectiveness."
Akoo engages viewers to activate video content across the screens with any mobile phone, free and on-demand. The network also accepts on-demand consumer requests via SMS text message or Akoo's free mobile app. Once someone requests a specific video or texts or uses a mobile app to send his request, he is notified how long before it will come up for play. All right-hand screens in the location will play the same video, and everything is free except for the cost to the individual for texting.
Akoo also offers free Wi-Fi connectivity in each location (opening up 'virtual marketplaces' for the eventual downloading of content, music, targeted mobile coupons, apps, social media, etc).
The system is set so it will immediately cut off to carry emergency messages if necessary. And advertising in the form of regular advertising, pre-rolls, overlays and branded entertainment are all possible. Akoo has its own advertising sales staff and will be launching national branded entertainment and advertising campaigns for national sponsors and major brands on its network beginning in late November.
On the back-end, Akoo's Media Console provides advertisers with actionable, real-time data on interactivity (on a national or per location basis), as well as mobile marketing applications for post-visit communication with opt-in users.
"Consumer-initiated activation of content on Akoo's network provides for a much deeper level of engagement and involvement," says Stankiewicz. "Research shows that media engagement impacts advertising effectiveness."
Its own initial research across live locations shows heavy user engagement, time spent viewing, and interactivity, but Arbitron will now handle independent research measurement.
The privately funded Akoo was founded in 2001 by entrepreneurs Niko Drakoulis and John Karantonis. Stankiewicz, who previously worked at Ogilvy in public relations, joined shortly after. Years between founding and deployment included product development and the obtainng of licences.