Adrian J Cotterill, Editor-in-Chief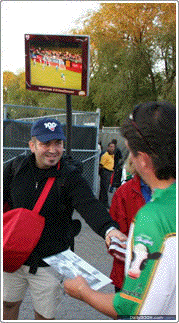 Pixman Nomadic Media are fast becoming the aggressive wearable media equivalent of Neo Advertising – at least in terms of overseas / geographical expansion.
Here we see new VAR partnership agreements in France and Morroco.
PIXMAN NOMADIC MEDIA EXPANDS ITS DISTRIBUTION NETWORK IN FRANCE AND MOROCCO

Montreal, June 2, 2008 – Pixman Nomadic Media Inc. (TSXV: "PMN") ("Pixman") is pleased to announce the deployment of its VAR ("Value Added Reseller") business model in France and Morocco, which will allow brands to benefit from a broader network for multinational campaigns.

French market

Pixman entered a VAR agreement with Geome, an interactive animation agency that has developed a unique concept of technological spheres. Under the terms of this partnership, Geome will now be distributing Pixman products across France. Geome already conducted a first successful campaign for Société Générale in May.

"We're very pleased to conclude this agreement with Pixman," said Nicolas Catania, Geome's director in France. "At a time when everything is digital, Pixman nomadic media is exactly what brands need for street marketing solutions using new media. They make it possible to effectively target the consumer in his favorite life spaces, interact with him and even build a relationship."

"We're delighted to be able to rely on a new representative in France," added Philippe Gribeauval, President and Chief Executive Officer of Pixman. "This agreement now means we can offer advertisers a new country for conducting European campaigns."

Geome has extensive experience and a reputation for its innovations in creating atypical structures and developing interactive animations. The company has conducted successful campaigns for major clients such as Canon, Estée Lauder and SONY BMG.

Moroccan market

Following its success in Tunisia, Media Max signed a new VAR agreement with Pixman in order to obtain distribution rights for the Moroccan market. A first campaign has already been confirmed with Meditel, one of the largest telephone operators in Morocco, for the launch of 3G technology.

Mustapha Messaoudi, Managing Director of Media Max, stated: "We've been very successful with Pixman products in Tunisia and are convinced the same will be true on the Moroccan market. Morocco has great advertising potential since street marketing is highly developed there. We believe that, thanks to its know-how and experience, Pixman has what it takes to make all the difference in nomadic campaigns."

"The signing of a second agreement with Media Max clearly illustrates the value of our VAR business model," added Mr. Gribeauval. "In the coming quarters, we plan to continue expanding our distribution network and adding new products to our current offering. We believe that this will considerably increase our revenues in North Africa."

Media Max used Pixman nomadic media systems to successfully organize campaigns in Tunisia for prestigious brands such as LG (new mobile phone) and Delice Danone (tour in 45 schools to promote the Delisso milk product). Media Max joined the Pixman network last year.