Gail Chiasson, North American Editor
Earlier this month, Texas Digital, College Station, Texas-based provider of digital signage solutions, completed its VitalCAST Digital Signage software installation at Marcus Theatres' new Midtown Cinema in Omaha, Nebraska.
Marcus Midtown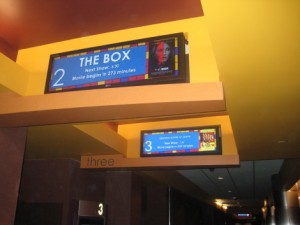 Cinema, which opened in November, is a one-of-a-kind, four-level, five-screen entertainment destination located in Midtown Crossing at Turner Park. Texas Digital, which has over 22,000 units installed worldwide, is Marcus Midtown Cinema's digital signage provider.
For the Marcus Midtown Cinema installation, Texas Digital's software is installed on 26 LCD screens in a variety of sizes as digital menu boards, box office signage, promotional boards and wayfinding signs near the theatre's escalators. Six of the displays are LG's new 38-inch stretch displays, which are located at each auditorium entrance.
The concessions and box office displays will all be updated automatically via an interface between VitalCAST and Marcus Theatres' Radiant Systems point-of-sale system. VitalCAST will give the theatre more signage options than static signage allows, such as dayparting and announcing specials, and the ability to adjust pricing and other features on multiple screens simultaneously from Milwaukee. Previously, Texas Digital worked with Marcus Theatres on a VitalCAST installation in its Majestic Theatre just outside Milwaukee.
"The dynamic changes we can make because of Texas Digital's innovative digital software are very exciting," says Bob Menefee, vice-president of advertising, marketing, and food and beverage at Marcus. "Not only can we quickly adjust menu prices, we can also create and market dining specials quickly and efficiently. Utilizing the other LCD screens located at strategic positions throughout Midtown Cinema, we can easily communicate to customers the amenities we feature on each floor and highlight the unique services our in-theatre dining concept, Cinedine, offers our guests, which is available in all five auditoriums."
Dennis Davidson, president and COO of Texas Digital, says that his company looks forward to continuing its relationship with Marcus at its other theatre locations and further expanding its migration to digital signage.
Established in 1972, Texas Digital's customers include leaders in the entertainment industry from movie theatres to theme parks to sports stadiums, arenas and other entertainment venues.
Marcus Theatres, a division of the Marcus Corporation, is the seventh largest theatre circuit in the U.S.. The company currently owns or operates 668 screens at 54 locations in Wisconsin, Illinois, Iowa, Minnesota, Nebraska, North Dakota and Ohio.