Adrian J Cotterill, Editor-in-Chief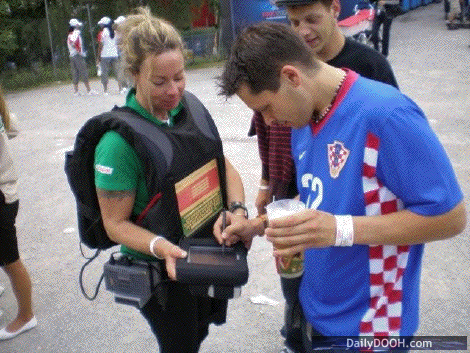 Dublin based Adwalker plc has been working on behalf of Castrol, one of the Euro 2008 soccer tournament sponsors.
We have been lucky enough to get quite a few high quality pictures of the campaign in operation and have of course put them up on the blog.
Adwalker started to work in football and rugby stadiums last season and its a natural fit, the crowds, the interaction, the call to action etc.
ADWALKER PLC

("Adwalker" or the "Company")

Irish Business Scores at Euro 2008

Castrol Limited ("Castrol"), an official sponsor of 'Euro 2008 Championships', has appointed digital wearable media specialist Adwalker to market to fans in eight host cities across Austria and Switzerland. Adwalker will be promoting the www.castrolindex.com, a bespoke website which analyses the performances and effectiveness of Euro 2008's football players.

KEY POINTS

First time a digital mobile media platform of this nature used at a major football championships;
Adwalker, 3G connectivity enables Castrol to demonstrate www.castrolindex.com live at the official fan zones in major host towns and cities;
Adwalker's multi-lingual delivery allows all supporting nationalities to participate; and
Adwalker digitally signs up fans to participate in a Castrol competition and win prizes.

The Adwalker digital mobile, interactive media platform is worn by its operators ('Adwalker') as a compact body pack incorporating an LCD screen, wearable computer, touch screen and printer, enabling services and applications which include brand advertising, data capture, coupon printing and gaming platform.

Adwalker has been appointed by Castrol to market to football fans, throughout Austria & Switzerland, during the Euro 2008 Championships which is taking place during June 2008.

Castrol's 'Performance Index' website will be promoted through roaming Adwalkers, data-capturing fans' details and driving web traffic. To encourage fans to sign up, Castrol is providing (via Adwalkers digital screen) the chance to win tickets to UEFA Euro Semi Finals and a JVC flat screen television. The Castrol 'free kick' challenge game enables participants to score a goal on the Adwalker screen and a printed coupon is provided entering the player into the competition. The platform provides a multi-lingual approach, thus catering for all nationalities. Adwalker follows-up with an email notification to participants including a link to the Castrol website.

Simon Crisp, CEO of Adwalker, commented: "Adwalker has provided Castrol with an all encompassing digital platform to promote the 'Performance Index' website. The real-time connectivity element will enable fans to access the 'Performance Index' quickly and efficiently whilst they relax in the Fan Zones.

"The real Adwalker benefit however is the digital capability of the platform; unlike any other in today's market it carries the power and sophistication to bring the message to the customer – anywhere and at anytime and in this instance in multiple languages.

"We are delighted to be connecting such an important official sponsor, as Castrol, with hundreds of thousand of fans over the period of Euro 2008."
The picture shown here was taken in Innsbruck.