Coca-Cola is celebrating its 25th anniversary with an unusual BlowUP installation, this giant mobile phone enabled deployment in Hoogstraat in Rotterdam.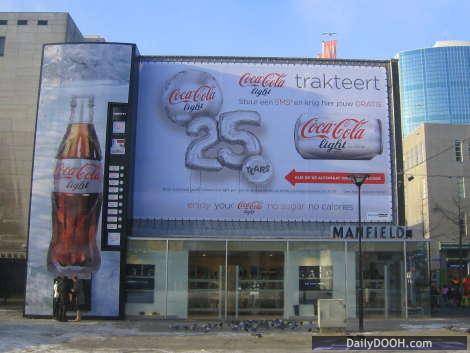 The opening attraction of this year's anniversary campaign is the Netherland's biggest Coca-Cola dispenser – it's eleven metres tall, four metres wide and 1.30 metres deep.
Katrin Robertson, Group Managing Director of blowUP media told us "We are very pleased that Coca-Cola is using our effective medium to draw attention to the campaign. We are convinced that the creative realization – BlowUp in combination with mobile – appeals to the target group and will be the talk of the city."
What we especially like about it is that for the entire month of January, people can send a text message to 5040 to receive a code on their mobile phones – the code is entered into the Coca-Cola dispenser (this as you can see is as tall as a house) and the customer receives a 330 ml can of Diet Coca-Cola !