We have just come back from the EMEA launch of Christie Digital's MicroTiles. There was a good turnout – something like 29 journalists registered their interest to attend but a crowd of 60 or 70 crowded around the booth.
Adrian Cotterill MC'ed the event with some style and handled the Q+As at the end of the 15 minute session with some aplomb.
After a brief introduction and welcome, Adrian handed the microphone to Mike Blackman, Managing Director, Integrated System Events…
Mike then handed the presentation over to Dale Miller, VP EMEA for Christie…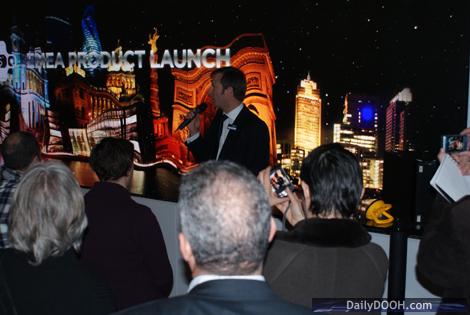 Bob Rushby, CTO and co-inventor of MicroTiles did the main part of the presentation with an interesting, educational and sometimes humorous take on how and why MicroTiles came about and what it's main uses are likely to be.
As we wrote before there has been intense interest in MicroTiles and their uses, in particular all the different types of shapes that have been completed to date.