Our good friends at City Gateway Media already operate and market large format digital out of home screens in Manchester and London's Canary Wharf and here we see them adding another.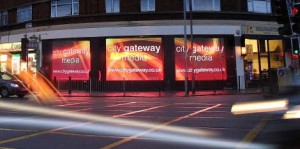 Anyone driving into London along the M4 cannot have failed to notice this recently refurbished digital wall located at the busy intersection of the A4 Cromwell Road and North End Road (in West Kensington).
James Porter, Director of City Gateway Media told us "The
impact of 3 large format LED screens in a roadside location and
with full moving video is an exciting addition to our sales portfolio.
I expect this site will further the cause for moving imagery at our
other planned roadside locations".
The screens will operate on a 2-minute loop and can facilitate fully moving or static imagery.