Gail Chiasson, North American Editor
Clear Channel Outdoor, 3D Exposure, Posterscope and Twentieth Century Fox have combined to launch what are believed to be the first digital transit shelters with 3D that can be seen without the need of glasses.
Percy Jackson & The Lightning Thief, Twentieth Century Fox's latest release that will be in cinemas beginning Feb. 12, 2010, is being brought to life on the streets of London this week through the world's first outdoor 'Real 3D' ad campaign.
Developed by Twentieth Century Fox in association with Clear Channel Outdoor's Create division, 3D Exposure, and Hyperspace (the innovations division of out-of-home agency Posterscope), the cutting-edge campaign enables consumers to engage with a 3D trailer on 42" HD screens.
Just as the gods and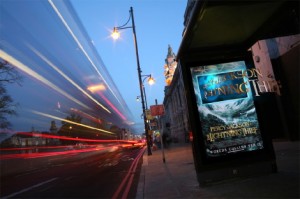 monsters from Percy Jackson's Greek mythology texts walk out of the pages in the film, so do the characters appear to reach out of bus shelters in high profile London locations on Oxford Street, Buckingham Palace Road, Kensington High Street and Kingsway.
The original Percy Jackson trailer was converted from 2D to 3D with additional elements re-created to take the film promotion into the next dimension. The 'Real 3D' total surrounding effect is achieved without the use of glasses through a specialist filter affixed to the high quality HD display. The LCD image is then subdivided into complex repeating segments that result in the human vision interpreting the image as a 'Real 3D' scene.
"Our strongest asset for marketing movies has always been the product itself," says Cameron Saunders, UK theatrical marketing director at Twentieth Century Fox. "In the past 18 months, digital outdoor has moved on leaps and bounds, enabling us to showcase movies in brand new environments out-of-home.
"This visually spectacular new technology means we can present Percy Jackson & The Lightning Thief to mass audiences in ways never seen before. In a world where consumers are being bombarded with competing messages, this is something that no one could fail to be absorbed by."
Richard Simkins at Hyperspace says, "In recent years we have seen the quality of 3D displays increase significantly. This, coupled with falling technology costs, means that it is now a viable and exciting medium to use in out-of-home advertising campaigns.
"3D displays such as the Real 3D format offer advertisers a new way to (literally) reach out and engage their audience, and we are certain that 3D imagery will offer new depth to the out-of-home experience for years to come."
Research by Millward Brown has shown that 3D Exposure's 3D solutions to have four times the stopping power of standard 2D advertisements, up to 10 times the average dwell time with increased brand recall rate, interaction and word-of-mouth from the onlooker.