Adrian J Cotterill, Editor-in-Chief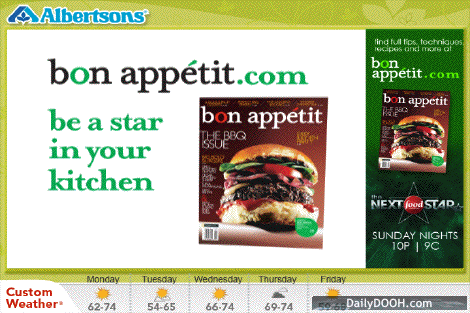 Premier Retail Networks, Inc (PRN) is starting to make a bit more noise within the industry. Today it announced that it is working with Conde Nast to produce Bon Appetit short-form content for its Checkout TV network in supermarkets throughout the U.S.
Condé Nast Publications, publisher of 26 consumer magazines has agreed a programming agreement to produce custom content for display on the more than 19,000 screens that make up the Checkout TV network.
The collaboration with Bon Appétit features cooking tips from Bon Appétit.com, ranging from Taco Parties and Easy Ice Cream Desserts to Creative Salads.
About Thomson

Thomson (Euronext Paris: 18453; NYSE: TMS) is the world leading provider of solutions for the creation, management, delivery and access of video, for the Communication, Media & Entertainment (CME) industries. Our clients are studios, broadcasters, network operators (telcos, broadband, satellite and cable operators) and an increasing range of professional users of videos. We deliver superior value to our customers through a unique combination of industry leading technologies, systems and services, enabling us to offer differentiated and innovative end-to-end solutions based on a broad portfolio of Intellectual Property. At the cross-roads of the CME
industries, leveraging our core competencies in video but also audio, data and voice, we enable our customers to take advantage of the growth opportunities brought on by the digital convergence revolution.