Throughout the Vancouver Winter Olympics, a number of networks are keeping their viewers up to date with the current medal count using a free feed provided by Screenfeed.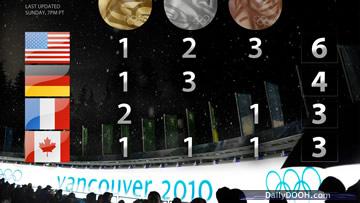 Screenfeed is offering an updated medal count graphic that displays the top 4 medal-winning countries at the games. The medal count is updated throughout the day and can be delivered easily to networks using a variety of methods including Flash (.swf), Media RSS or a JPEG via a web address.
Network operators schedule the feed to play once and the medal count graphic will automatically update when displayed until a few days after the closing ceremonies.
To receive the feed, customers just need to ask. Any customer who fills out the request info form on Screenfeed's website will be sent information on how to implement the feed within hours.
In addition to the medal count, Screenfeed offers coverage of the Winter Olympics within its Sports-in-Pictures news feed that pairs a high-resolution photo with a brief headline written specifically for digital signage. In addition to several other content channels,
Screenfeed will also announce a new moderated Twitter feed at the #dse2010 Digital Signage Expo – called Today's Top Tweets it is basically an animated presentation of the most interesting and appropriate tweets of the day, every day.
This feed will be available at no cost for a limited time beginning 1st March.
Screenfeed will be presenting its content services at the Digital Signage Expo in Las Vegas (booth C2) February 23-25, 2010.