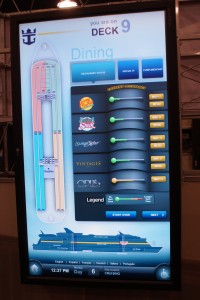 One of the nicest displays we saw at DSE was an interactive portrait touch screen providing way finding on the Royal Caribbean ship 'Oasis of the Seas'. The ship is currently the largest passenger ship in the world, and made its maiden voyage two months ago.
It was one part of a comprehensive and diverse signage installation on the ship by Four Winds Interactive, helping passengers to find their way around, mapping routes to specific places, and showing up coming events happening on board.
The content was really well designed, being both simple and clearly laid out, and has had the result of reducing the number of guest enquiries to the crew.
What we especially liked was the integration with live data coming from the ship's back end systems, which was used in the list of restaurants.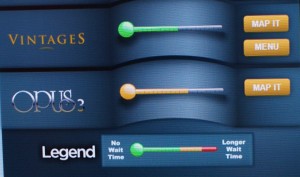 Royal Caribbean has a head counting system for each restaurant. This data is converted into a simple colour-coded thermometer graphic next to each restaurant listing. This shows passengers the likely wait time for each restaurant, so at a glance you can tell which restaurants are busy without having to walk the length of the ship to find out.