John Johnson, Interim Executive Director told us "Attendees and exhibitors alike complained that Digital Signage Expo was so busy that many just didn't have time to take away from doing business on the floor, or attending what was the largest educational conference ever staged, to come by the booth to sign up."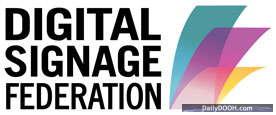 In what is described as 'immediate industry acceptance of the Digital Signage Federation' we see that they signed up 150 members last week.
As one wag online told us "It's amazing what free can do". Here we see the DSF extend its initial offer of six months free membership for a further two weeks (until Friday, March 12th) to anyone who was registered at Digital Signage Expo 2010.
After that date a 'reasonable dues structure" will be required.
For more information, or to join the Digital Signage Federation and /or volunteer for open committee positions, email John Johnson, Interim Executive Director at john@digitalsignagefederation.org, call at 571-215-3028, or visit www.digitalsignagefederation.org.