Adrian J Cotterill, Editor-in-Chief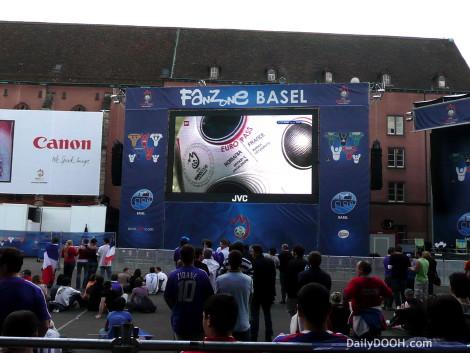 The large LED folks are all mad or at least incredibly slow with their PR. Last week we received half a dozen press releases from manufacturers, rental companies and the such like telling us how they were all involved in the UEFA Euro 2008 Championships 7th June – 29th June 2008 – we guess many of the AV magazines will pick up these stories (everyone needs copy and pictures) but the story really has gone cold, old news, onto the next thing!!!
French screen rental company, Supervision, was the main UEFA contractor, we are told that demand for screens for use in public arenas was so high that Supervision had to order 2 x digiLED d11N screens to add to its LED tour inventory.
These two d11N screens were installed in the Fan Zones at Basel's Kasernenplatz and Münsterplatz shown above.
About digiLED

digiLED is the in-house LED brand of LED display specialists displayLED. displayLED act as an integrator for all leading brands of LED displays in addition to installation, maintenance and consultancy services and are also the world's largest broker of used LED displays.