Adrian J Cotterill, Editor-in-Chief
If only all digital campaigns could get crowds of 18 – 30 women paying attention like this (see below) there'd surely be no need for DPAA, OMAC or OVAB or any other organisation to sell the merits of the medium…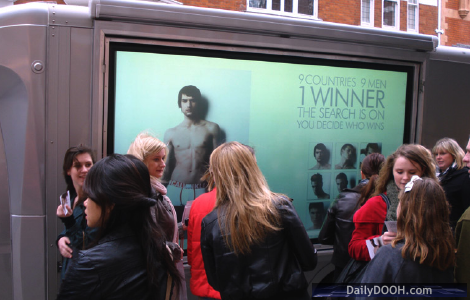 But then again:-
not all of the campaigns feature fit good looking buff young men in nothing except for a pair of Calvin Klein underpants
not all digital screens are driven into the heart of a city and placed where there are plenty of people who will respond best to the campaign in question
We spotted this van in London last week and believe it is part of Calvin Klein's '9 Countries, 9 Men, 1 Winner competition'
The mobile digital screen was a SA Digiadvan and the driver / operator told us he was "touring London offering memebers of the public the chance to vote for the person they would like to be the next Calvin Klein model"
The picture above wasn't posed; there were crowds surrounding the van all the times we saw it!
One afternoon, two old ladies were sitting and talking in a park. Along came a flasher, who flashed the two old ladies. One old lady had a stroke … but the other couldn't reach.
And like one of those old ladies … we couldn't get anywhere near the van to register our vote (sad to say but the French guy looked to be the better looking one) – yes that's right using the touch screen technology encased in the Digiadvan the target audience was able to interact with the screen and place their vote as to who was the 'hottest' male model.