Digital signage company Amscreen today announced it has been appointed by Esso as its exclusive digital signage partner in the UK.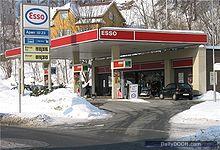 Amscreen's screens will be installed in 350 of Esso's company owned sites from April 2010 onwards and will see the retailer link into Amscreen's Forecourt Convenience Store Network.
As usual, the screens will carry customer information, live traffic updates and advertising for Esso in-store promotions and services.
The network will also feature messages from national and regional advertisers who are keen to target the three million motorists who pass through Esso retail sites each week.
Simon Sugar, CEO at Amscreen told us "Esso is a welcome addition to our forecourt offering, which now has in excess of 1,000 screens. When the Esso roll out is complete at the end of May our audience across all networks will total over 15 million people per week, which demonstrates that we are still on target to become one of the largest providers of digital signage advertising opportunities across the UK."
The announcement follows Amscreen's appointment as exclusive digital signage partner to BP, MRH Retail, Euro Garages and Motor Fuel Group in less than twelve months and now sees well over 1000 outlets broadcasting information via Amscreen's Forecourt Network.