Gail Chiasson, North American Editor
San Francisco-based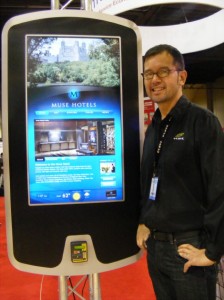 ecast, whose kiosks were highly visible in two pavilions during the 2010 Winter Olympics and Paralympics, will be using similar technology in two pilot projects to get underway early this summer.
The first, in partnership with LG Electronics, Englewood Cliffs, New Jersey, is a virtual concierge. The unit, which can be configured for cash and credit transactions, offers choice of restaurants, air flights, a news feed from USA Today, weather and the ability to help visitors and guests. It is integrated with Yelp to give restaurant reviews.
The second is a pilot project for Whirlpool which will be in Bray & Scarff stores in June or July. The unit will help customers choose their Dream Laundry Centre, according to their needs, including price, space, style, and other factors – including calling for a sales person to answer questions and help close a deal. The unit will also be used as a teaching tool, integrating material and information for sales staff.
"ecast's units at the Olympics got great exposure," says Paul Rattay, director of product management at ecast. In the Acer Computing Pavilion, visitors could have a virtual walk through of the company's product line, and the units gave Acer the ability to collect leads.
The Four First Host Nations Pavilion, with four ecast units, was in collaboration with the Canadian Tourism Commission. Among the many features offered, complete with sound, were a history of the First Nations, information about companies operated by the First Nations, and information on the environment.