Gail Chiasson, North American Editor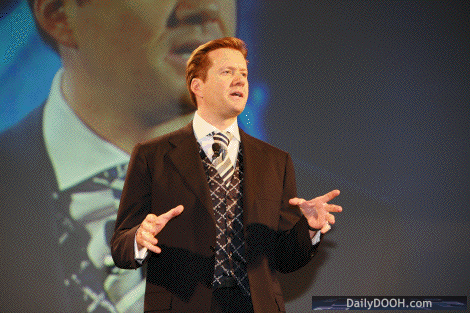 This month in the "CEO Spotlight", we welcome François de Gaspé Beaubien, Chairman and Chief Coaching Officer of ZOOM Media, Montreal (and Executive Chairman, Ayuda Media Systems).
ZOOM Media are the largest targeted lifestyle media and marketing company in North America with over 9,000 venues and more than 60,000 billboards.
It's just over two years since Zoom first unveiled its digital screens. You now have 700 digital screens in Canada and over 500 screens in the U.S.. What factors have allowed you to grow so quickly and are you ahead or behind in meeting your expectations?

We are on track with our digital roll out. The success of our digital expansion has to do with the outstanding coordination between our internal teams and our partners – venue owners as well as suppliers. There were some challenges in the beginning (always are when you do something new) but the process has been honed downed to a science and digital rollouts now proceed seamlessly.

Your digital screens are in the changing rooms and washrooms of restaurants, bars, gyms and health clubs in Canada, and, I believe, in larger format in restaurants in the U.S.. Where else do you foresee adding digital screens in the future and when?

We have a bold vision for digital. We believe (not the least of which because our clients tell us so) that the world is going digital, that digital provides them with the flexibility they want and need. Our objective is to 'digitize' all of our current 9,000 venues in NA. Moreover, we are going to expand our footprints. Stay tuned for some announcements on that front in the next six months.

You have been one of the most aggressive out-of-home media companies in Canada in terms of getting measurement solutions, online proof of performance figures, Canadian Outdoor Measurement Bureau recognition, etc.. What have these done for your company?

Our Canadian president, Andy Querin, has been a great champion for us and the industry. All members in COMB have a vested interest in making our industry transparent and accountable. Hellen Thompson and her team at COMB have done an outstanding job at responding to industry's needs. Advertisers and agencies seek accountability and we aim to deliver on all the metrics they require. As to Zoom's involvement….well, we enjoy innovating and raising the bar.

Our need for state of the art software solutions led us to partner with Ayuda Media Systems, based out of Montreal. Ayuda not only provides software solutions to Zoom (we were the first, and the reason for Ayuda's creation), but it now services the giants of OOH as well, such as CBS, Van Wagner and Eye Corp (to name but three).

You personally come from a publishing background. What made you move from that sector and what did you bring from it that's useful in the OOH sector?

I have dreamt of a moment of time such as this: where all the traditional media rules change and where clients and agencies seek a viable solution to reach an ever-elusive consumer. We are living in the greatest media revolution since the advent of the television. All traditional forms of media, be they newspapers, magazines, TV, or radio, are flat to down in the US….save one: OOH. In Canada the trends are not yet as pronounced as south of the border….and some say they may never get to that level, but many of the indicators are pointing to a similar outcome.

One critical factor that no one debates, is that the consumer is now in charge…and that reality is only going to increase. They can record and ad skip TV shows with their Digital Video Recorder (72% of DVR users skip the ads and the latest research has US DVR penetration at 33%; Canada's is growing as we speak); they can download the songs they want and play them when they want (iTunes is now the #1 place to buy music in North America); newspaper readership is at an all time low and dropping fast;……and the only traditional medium that consumers embrace (and can't escape) is OOH.

The two fastest growing media segments in North America are Online and OOH. The 'oldest medium' has become not only one of the most relevant but one of the most innovative as well. I love magazines, radio, newspapers. I was president of Canada's largest consumer publishing company (titles such as TV Guide, Elle, Canadian Living, Coup de Pouce, etc..) and, as co-CEO of Telemedia, oversaw the creation of one of Canada's largest radio companies with over 80 radio stations. (He and his siblings sold all their media properties by the end of 2002 in order to focus on the growing billboard industry, specifically indoor billboards with their acquisition of Zoom Media in its entirety in 2003 (having been a shareholder since 1995). de Gaspé Beaubien has been the Chairman of Zoom since 2001 and the Chairman and CEO since 2003.) But as the song goes, "The times they are a changin'." The consumer is now in charge and there is no going back.

We are living in a 'plate tectonic' level of upheaval in the media realm. These consumer induced quakes (i.e. they are in control of what they want to watch/read/be exposed to and how) are in the process of rearranging the landscape. Technology is now a threat to all traditional forms of media…save OOH! I have a lot of friends in the other traditional media and I feel for their plight. There is no doubt that it is a lot easier to manage when there is a massive consumer-induced upswell beneath the keel of your ship. To be quite candid, I'm having the time of my life.

Zoom made a strategic alliance with Smart One Media in early 2006. What role has that company played in the development if your digital network. Is it – or others – still involved? In what capacity?

Patrick Galante is the CEO of Smart One and it has been a great partner for us. Its software enables us to broadcast over our digital network in Canada and the company ensures that all of our screens are 100% compliant. As I said, our digital growth in Canada is now seamless, thanks to partners such as Patrick and his team. We look forward to continue to build our digital offerings with their help.

What is your strategy in terms of development of other digital formats? You own 50% of Fashion Frame. You bought Alloys Bar & Restaurant Media Network in March. Will these or other future acquisitions dictate the development of new formats?

Zoom has grown tremendously through organic means, but the time has come to put rocket thrusters on our ship. There will be consolidators and consolidatees in the OOH digital landscape and we intend to be consolidators. We are going to buy companies and we are going to put the emphasis on digital growth.

As to digital formats, we are big believers in establishing 'standardized' sizes. We work closely with advertisers, agencies and our industry organizations to map our digital offerings. The easier it is for clients and agencies to purchase digital, across providers, the faster the digital tide will continue to rise.

Zoom has been very supportive of various charities, especially NABS. I know that your own family is very involved in philanthropy. Is this something personal that inspired Zoom to take this route or did it come from other sources? I know what it means to the industry, but what does it mean to employees?

All of us at Zoom recognize how fortunate we are to be in a thriving industry and in a growing enterprise. Every team member here believes in giving back. It's one of the capstones of our core beliefs. NABS happens to be one of the leading organizations we support along with Les Prix Renards in Quebec. But there are legions of other non-profits which we also support. We have three legs to our philanthropic practice: 1. We give of our time. 2. We give funds. 3. We give of our assets and promote their worthy causes through our media.

What is Zoom's revenue and what percentage comes from the digital sector? Do you expect that percentage to increase to a major way?

As a private company, we don't report our overall revenues publicly. That said, I will share that we are still shy of the $50 million mark in total. Digital is a new offering for us so digital revenues are still in the single digit millions. (Our fiscal year starts in August). Digital adoption by clients and agencies is gaining even greater momentum and we see that trend continuing.

You have to remember that as compared to our 60,000 static billboards in NA, digital accounts for 1,200 screens (half of which we just installed in the past few months!). As we continue to grow our digital installs rapidly in the months and years ahead, we anticipate that over the next
36 months, 1/2 of our sales will be digital and that, eventually, most of them will be digital. (Personally I believe that there will always be a place for 'static' It's just that the versatility of the medium ensures that digital is the future.)

You have two presidents: one in Canada and one in the U.S.. Why have you taken this route, and do you intend to expand into other countries in similar fashion?

We are very fortunate to have two great presidents leading their respective teams: in Canada, Andy Querin, and in the US, Dennis Roche. Each country, as any citizen from either side of the 49th parallel will share, is rather different. It thus makes sense to have industry- relevant experience dealing with country-specific challenges.

As to future countries for Zoom expansion…..ask me when we get there.

What is the next challenge for Zoom and for you personally?

My top 5…

1. Recruiting more Zoom Team members
2. Digital
3. Managing fast growth
4. Acquisitions
5. OOH Evangelism.

It is interesting that your #1 issue is based on growing your team. You've been able to attract top people to your company. What is it about Zoom that makes people want to work there?

Great people attract great people. If I have one big advantage in my career, is that I have been fortunate enough to hire individuals who are smarter than I am and who are great to work with. Good coaches build great teams. We are a fast growing company and most of our managers are grown in-house. What better proof that you believe in your people than when they win more and more responsibilities as they continue to grow – and as they help the organization to grow as well. Everybody wins. Besides, we like having fun while we build solutions for our clients.

As to our other challenges, the continued growth of digital is front and center. Managing a fast growing company has it challenges….but we wouldn't have it any other way. Acquisitions….well, stay tuned on that front. And, finally, OOH evangelism. Part of my role is to help disseminate the good word: OOH, and especially digital OOH, is booming and it's all because for the first time in media history, the consumer is in control. We follow the consumer to where they choose to go and we are the inescapable, yet non intrusive, medium (i.e. we don't 'interrupt' their activities….but we certainly grab their attention). I couldn't ask for a better positioning in this fragmented world.

On that front, I will be co-chairing the upcoming OVAB (Out of home Video Advertising Bureau) Digital Summit in NYC on Oct 29/08. The core of Digital Summit will be advertisers sharing with other marketers the key learnings of digital OOH as unveiled through their own case studies.

There is so much more yet to be accomplished….but what an exciting time to be a part of OOH and our digital frontier. I wouldn't trade places with any other player on the field. Moments like this happen once in a career and we're just lucky to be at the right time, at the right place, with the right team and the right products. Did I mention how much fun I'm having? 😉
François de Gaspé Beaubien is also Chairman of the STAR Board (Street Transit & Alternative) of the Outdoor Advertising Association of America, an OAAA Board member and an OAAA Marketing Committee member; a board member of the Traffic Audit Bureau, of the Out Of Home Video Advertising Bureau, and of the Canadian Advisory Board of the Harvard Business School.

He is former Chairman of the Canadian Magazine Association and former Board Member of the Audit Bureau of Circulation. He represented the OOH industry on the media panel addressing 'How Digital is Affecting Other Media' at the American Advertising Agency Association conference in March 2008.