Gail Chiasson, North American Editor
Founded in 1836 and located in Bristol, U.K., Bristol Zoo is the fifth oldest zoo in the world and is recognised nationally for its conservation and education work.
To help it in that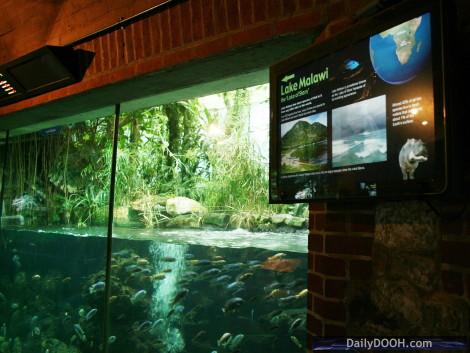 work and to provide visitors with information, BrightSign's digital sign players have been installed at Bristol Zoo Gardens to deliver dynamic messages about wildlife, conservation and upcoming events.
The project's integrator, Audionation-UK Ltd., recommended BrightSign HD110 controllers to drive the Zoo's 10 digital signs because they deliver high video and image quality, are easy to use, and affordably priced.
"Bristol Zoo wanted to replace its light boxes with digital displays that give visitors an entertaining zoo experience that makes its messages more memorable," says Andy Phillips, technical sales and director at Audionation, located in Weston-Super-Mare, North Somerset. "It needed a reliable signage solution that its marketing and education departments could manage and update without requiring the assistance of an IT person or special training. We've found that BrightSign controllers meet all these requirements, so we felt comfortable recommending them."
As a registered charity, affordability – without sacrificing reliability or quality – was a key issue for the Zoo. With its solid-state platform, BrightSign management considers the reliability of its media players as higher than PC-based solutions while pricing is significantly lower. The HD110 also supports full HD at 1080p resolutions for pristine quality and includes BrightAuthor software free of charge. BrightAuthor application offers intuitive templates and tools that make creating, updating, managing and monitoring digital signage displays easy.
"We're working to protect the world's environments, plants and animals," says Simon Garrett, head of learning at Bristol Zoo. "An important part of our work is to communicate with a wider audience in order to build awareness and engage more people in helping to save these vital assets. Our new digital signage allows us to provide timely communications that are more entertaining than static displays, meaning the messages are more memorable."
Bristol Zoo has already replaced 10 lightboxes with BrightSign-driven digital displays and will soon have 11, with plans to continue expanding the digital signage program.
The project currently includes six displays in the Aquarium promoting conservation awareness with video, images and text on topics such as 'Saving Our Seas', 'Meet the Keeper' and a video alerting visitors to the link between seafood choices and marine conservation. Two displays are also in the Zoo's Bug World exhibit area and two additional displays are in the Zoo restaurant.
Bristol Zoo Gardens is a member of the British and Irish Association of Zoos and Aquariums., an organization that represents more than 90 member collections and promotes the values of good zoos and aquariums. Throughout 2010, Bristol Zoo is running a series of events to highlight the importance of conserving the world's biodiversity, as part of the international Year of Biodiversity.