Adrian J Cotterill, Editor-in-Chief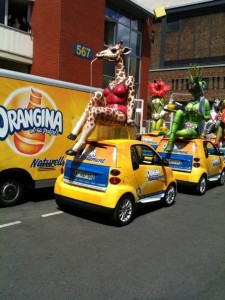 One thing's for sure and that's wherever you see an SA DigiAdvan a crowd will surely gather (see larger picture below – note the usually black DigiAdvan seems to have been wrapped in an 'orange' colour) even if there are half naked long legged giraffes in red body suits sitting on top of Smart Cars on the other side of the road!!
It's all in aid of an Orangina sampling campaign (Orangina is a carbonated citrus beverage made from orange, lemon, and mandarin juice) that kicked off in Paris earlier this week aimed at raising awareness of a current crop of television adverts.
Involved we believe are 1 liveried DigiAdvan, 3 digiwalkers, and 7 bespoke Smart cars all of which are circulating France hitting 7 cities in 28 days raising the awareness of the current orangina brand as well as asking the target audience to register their vote which they believe is their favourite Orangina advert!