Gail Chiasson, North American Editor
Travelers passing
through five major Canadian airports, including Toronto Pearson International Airport, the busiest in Canada, now have access to critical news and weather reports via CBC: News Express broadcast service, powered by Capital Networks Ltd.'s Audience digital signage solution.
Audience enables CBC News Express to present the latest video content and live data feeds for up-to-the minute local and national news, weather, business and sports updates. The highly scalable Audience platform will allow CBC, Canada's national public broadcaster, to also deliver its News Express service to more airports and more public spaces in the near future.
CBC is dedicated to delivering its news journalism to a wide audience and across a range of media, exploiting new and innovative new media – such as digital signs – to connect with people no matter where they are. The broadcaster was replacing a previous system and needed a solution with advanced content management capabilities that would be able to support the expansion across multiple airports. The Audience solution is an open system that integrates easily with existing hardware and software so CBC didn't have to 'rip and replace' its entire infrastructure, which helped minimize costs.
"As Canada's national broadcaster, CBC takes the management of public dollars extremely seriously," says Robert Bishop, executive producer, CBC. "CBC: News Express is an important source of commercial revenue for the corporation. Similarly, we can't compromise quality for cost because we have a reputation for delivering technologically advanced broadcasts across every medium. After a rigorous selection process, we chose Capital Networks as our digital signage partner because it delivers on both these points: the solution is cost-effective because it's so scalable and open; and the quality of broadcast is second to none, as is content management.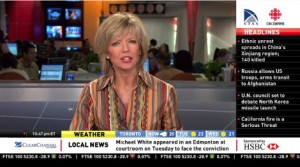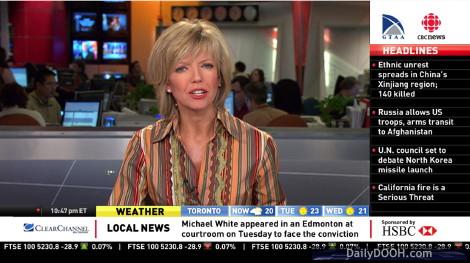 "Capital Networks bridges the gap between digital signage and broadcasting. Most companies fall into one category – digital signage vendor or broadcasting production – but Capital Networks has a solid history in both. Its Audience broadcast solution ensures that our programming is really sophisticated in terms of layout and design and meets our need for flexibility and rapid delivery in a rapidly changing news environment."
CBC's editors create all the video news content in the corporation's Toronto Broadcasting Centre. Digital files are managed through Flip Factory and delivered into the Audience system at the click of a mouse. This creates a seamless flow so editors don't have to spend time uploading, and news items go into the system immediately.
Added to this, local data from news and weather reports are integrated into the system via live data feeds so travelers see local information as soon as it's reported.
"The speed of delivery via digital signage means that it is an ideal way of communicating real-time news to public spaces," says Jim Vair, vice-president business development, Capital Networks.