Gail Chiasson, North American Editor
Onestop Media Group not only powered the conference digital network for D8: All Things Digital, the Executive Conference of the Wall Street Journal for the seventh year, but also simulcast content from the sessions back to its new Onestop Agency Network in Canada.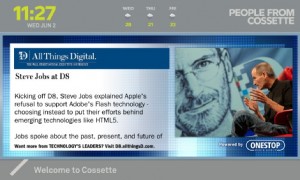 Held at Rancho Palos Verdes, California, June 1-3, the conference played host to Silicon Valley and Hollywood leaders in the 3-day conference, highlighting what is hot in the world of media and digital technology.
Session highlights included a keynote from Steve Jobs, Apple CEO. Among other speakers were Mark Zuckerberg, founder and CEO of Facebook, and James Cameron, Avatar director/producer.
"We are continuing to enhance the content for this unique industry channel and by providing session highlights direct from this incredible event, our agency partners could stay connected on some of the most exciting announcements and news from the industry's biggest players," says Michael Girgis, president and CEO of Onestop Media Group as well as president of of Fourth Wall Media and chairman of CODACAN.
"Onestop has been a long time partner of D and we've been thrilled to use their outstanding digital signage experience every year at D," says Lia Lorenzano-Kennett, D8 managing producer. "To provide the news-making content to Canada's media agencies is a great extension of the D brand."
Girgis says that the names of additional agencies joining Onestop Agency Network will be announced shortly. The first to join were Media Experts, MediaCom and Cossette.