Adrian J Cotterill, Editor-in-Chief
Gary Kayye and his team at rAVePubs were seemingly everywhere at #InfoComm2010 – for once outnumbering the DailyDOOH team at a show – and kindly handing out very nice t-shirts (which yours truly wore for part of day 1 and may well wear again today if it is not too smelly).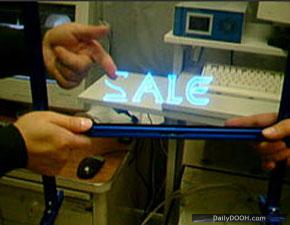 Anyway they tweeted last night (Wednesday) "LIVE from #infocomm10: Day-1 results: Best Booth #christiedigital, Best New Product: #POLYCOM OTX, Best 3D: #Samsung, Best Freebie ice cream" and we respect Gary enough to think that was well worth repeating – even though we missed the ice cream by reading the tweet announcing it incorrectly!
The best game or best interactive offering at the show was easily the HomeWrecker game on the Christie Digital stand – a truly inventive way to demonstrate technology – definitely well worth a visit and you can even win an iPod Touch.
The best (new) product we have seen with applicability to our industry is SuperImaging with their Dynamic Digital Displays on Clear Surfaces – a product which is called MediaGlass. They have a really tiny booth but go see what they do with a thin piece of film and an ultra violet projector and tell us that you cannot see this being used in retail shop windows or other places as a new display technology.
MediaGlass can be seen on booth N2946 and trust us it is well worth a look see.