Gail Chiasson, North American Editor
A pro bono campaign
on the digital billboards of Clear Channel Outdoor is running across Los Angeles, joining the spontaneous outpouring of tributes that have swept the community and the sports world since the passing of legendary UCLA basketball coach John Wooden.
The digital boards show selections from the Coach's fabled inspirational sayings, with such lines as : "Have utmost concern for what's right rather than who's right," "Success travels in the company of very hard work. There is no trick, no easy way," and "Make a decision! Failure to act is often the biggest failure of all."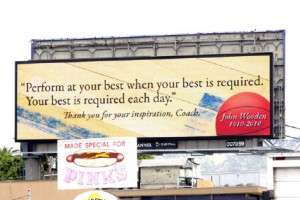 "Coach was a personal inspiration to my life, as I grew up in Southern California and as a high school sports coach," says Layne Lawson, area director of public affairs for Clear Channel Outdoor. "We saw an opportunity here as a company to honour someone who has meant so much to this community and the sporting world. Using our displays to keep Coach Wooden's philosophy and wisdom fresh in the minds of Angelenos is just one way for us to give something back to our Southern California community."
In addition to those mentioned, another five Wooden-ism's are featured in a rotating series of displays appearing on more than 70 digital billboards in Clear Channel Outdoor's LA network. Each display closes with the tagline 'Thank you for your inspiration, Coach'.
Digital display technology enabled the rapid composition of the display design, done in-house at Clear Channel Outdoor, and makes possible the ongoing rotation of the eight different sayings.
"I have always tried to make it clear that basketball is not the ultimate. It is of small importance in comparison to the total life we live. There is only one kind of life that truly wins, and that is the one that places faith in the hands of the Savior." , 1985 said by Coach John Wooden, former UCLA basketball coach who died June 4th 2010 at the age of 99