Gail Chiasson, North American Editor
For the first time in Canada, and, we suspect, a lot of other places, people can access live customer support while banking at a teller machine, simply by touching the screen.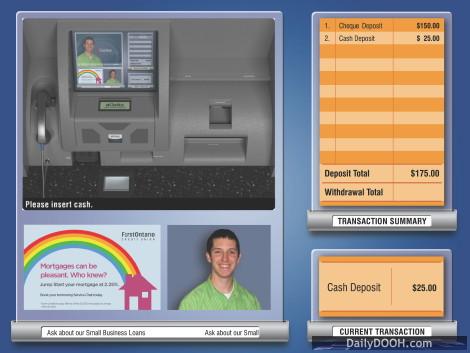 FirstOntario Credit Union, Hamilton, Ontario, has launched the Personal Assisted Teller – or PAT – that connects tellers directly with customers via video while they do their banking.
PAT uses live streaming technology to connect an on-screen teller with customers who can do much of their personal banking including Canadian cash deposits, withdrawals, cheque cashing, bill payments and Canadian drafts. Most of the daily banking you would normally do face-to-face can be done at PAT.
"This is a first for the Canadian banking industry," says Kelly McGiffin, president and CEO of FCU. "The innovative and user-friendly Personal Assisted Teller is another example of FirstOntario Credit Union's commitment to great customer service."
Using PAT is simple: you touch the video screen to begin and the live teller guides you through the rest. PAT is also as secure as using an ATM or going directly into the branch and conducting your transactions face-to-face.
Supplied with technology from uGenius Technology, West Sandy, Utah, PAT is the only machine that enables the teller to be offsite.
The first PAT is located at the recently opened Centre on Barton Mall Branch (at Barton and Kenilworth) in Hamilton. Additional PATs will also be deployed at three future FirstOntario Branches located in: downtown Hamilton, Hamilton Mountain and Burlington. FirstOntario is also looking at strategic partnerships to launch PAT in remote locations separate from any branches of the credit union. And as the PAT network broadens, FCU will be able to expand its hours of operation.
"Our growth is made possible by (credit union) Members who see the benefits of banking with us," said McGiffin. "Credit unions are known for putting Members first and FCU is continuing to find new and innovative ways to deliver exceptional service, as our new Personal Assisted Teller demonstrates. New technology such as PAT is progressive for the younger generations, but keeping the human touch is what the older generations love. So this is a win-win for all."
In business since 1939, FirstOntario Credit Union is headquartered in Hamilton, serving over 73,000 Members and offers a full suite of banking products including daily banking, mortgages, lines of credit, loans and investments. FirstOntario has over $2.4 billion in funds under management and currently has 17 branches serving 11 communities within the Hamilton, Halton, Niagara and Haldimand/Norfolk regions. Membership is open to everyone.