Manolo Almagro, Weekly Columnist
Last week, I attended Singapore's CommunicAsia 2010– A monster of an event, it was combination of three huge expos; CommunicAsia, BroadcastAsia and EnterpriseITAsia. To give you an idea of the scale of the conference; I would estimate it to be about 25-30% larger than NAB in Las Vegas.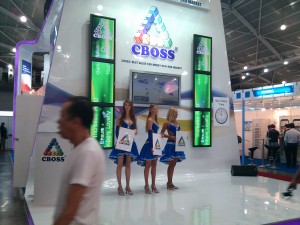 From an attendee's perspective, the conference had a lot to offer by way of mobile, broadcast and communication technology seminars, and the exhibit floor was vast, definitely a multi-day event if you were to walk every exhibit hall.
From an exhibitor's perspective, perhaps not quite as reciprocal. Although there was a steady flow of attendee traffic between sessions, it was by no means as heavily attended as the NAB show in Las Vegas.
Notable show highlights from my perspective were…
Heavyweights like Docomo, Samsung and Sony paraded out several interesting digital media convergence devices. A trend is emerging, manufacturers are migrating specific smart phone features into lower-end mobile smartphones to fill the unique Asian niche market of the "secondary" phone or as an upgrade phone for the lower-SECs. In all cases, manufacturer's and telcos are bundling affordable LBS, apps markets and concierge services with a new breed of value engineered smartphones.
A new breed of digital media content management systems now incorporate cross-media support. These "all-in-one" solutions incorporate the control and management of broadcast, mobile, online, and even digital out of home content into a single platform.
Based on what I saw at the show, it's apparent that the local Singapore's digital signage industry is still in its nascent stages, as most of the solution providers at the show were less solution or network operations focused and more like software + hardware resellers that used to be AV or security system providers.
It was good to see that there was at least one of Singapore's digital signage network operators exhibiting at the show-  GGA, (a subsidiary of the region's more established digital OOH network and digital outdoor company – Globaltronics Inc) They manage and sell media for the C.K. Tang's network at Vivo City, one of the area's busiest retail mall centers in Singapore – and will soon be launching one of the first digital place based media installations for the SMRT. (Singapore's subway system)
Singapore's digital signage businesses face the same challenges as anywhere else in the world – brands are interested, but want concise market research to prove the case for effectiveness. However – they do have an advantage over some other Asian countries due to a loop hole in the Singaporean government subsidy program that provides funding for companies that are focusing on digital content development. Digital Out of Home content development qualifies for this program, so a lot of local companies are being partially supported by this government grant – most likely meant to promote the creation of a digital content hub for off-shoring opportunities.