Digital media sales house Digicom has brought official FIFA 2010 beer sponsor Budweiser onto Amscreen's forecourt digital screen network as the first alcohol advertiser to run a campaign on the screens.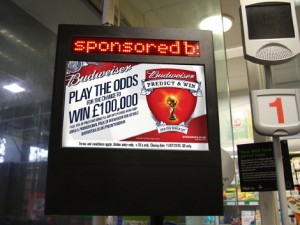 Budweiser are using the network to promote their World Cup sponsorship and make their brand the choice of consumers during the tournament. The forecourt campaign is part of the larger, high-profile campaign for the World Cup sponsorship and the new 'Predict and Win' website associated with it.
The advertisement is shown in 150 forecourt locations nationwide, and runs for four weeks until the end of June. The MD of Sales & Marketing at Digicom, Chris Forrester told us "This innovative campaign is sure to catch the imagination of the target consumer during the World Cup, a key time for beer brand sales."
The forecourt network delivers Budweiser an additional audience of consumers looking for products to buy on their way home to enjoy while watching the matches.
The 'Predict and Win' website works by obtaining codes from packs of Budweiser and entering the code into the website to gain credits which you can use to predict various outcomes on each FIFA World Cup game.
The prizes on offer are heavily emphasised in the forecourt screen creative to entice the target audience of consumers aged 18-34 to visit the website and try to win the prizes on offer which include GBP 100,000 for the overall winner and weekly other prizes such as Sony TVs and MP 3 players for the runners up.