Adrian J Cotterill, Editor-in-Chief
Does anyone know how the organisers of Digital Signage Expo and Kiosk Expo Europe, Essen managed to come up with 3,250 visitors?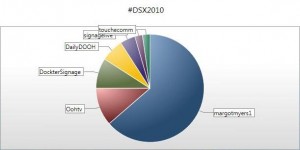 SERIOUSLY there is no way that this event was busier than #ScreenMediaExpo (3,195 attendees).
We also hear that next year the event will be back to its usual date of May – so seems like the organisers want to go head to head with #ScreenMediaExpo, London.
Separate side note: Our systems measured 60 tweets for the hashtag #DSX2010