Described in their own words on the web site as a "a web-based workflow tool for managing the specification and trafficking of copy for digital out-of-home campaigns in the UK" Accelerator, which can be seen here (unless they take it down before any official launch) is we believe is a joint venture between Kinetic Worldwide and Grand Visual.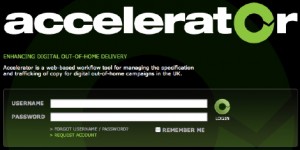 For our distribution work we have used a combination of DailyDOOH.net and revx – the latter being much our preferred platform because of the workflow, built-in markup tools and the transcoding features (movie files are converted to flash to allow online viewing so no need to download a huge file just to see it wasn't what you wanted or was incorrect).
The web site describes the system's key features as…
Capturing campaign details
Notifying all parties / agencies of booked media schedule, formats and relevant specifications
Receiving and distributing DOOH copy
Providing standardised copy ID
Validating copy against the relevant delivery specifications
Providing copy status alerts
And its key benefits as…
Centralised and simplified process
Greater clarity and understanding of campaign copy requirements
Tighter management of key project deadlines
Clearly communicated rotation instructions
Reduced risk of loss of media value
Central point of contact for copy queries
Standardised copy rotation instructions
File formatting checked prior to delivery
Grand Visual and Kinetic have long had a cozy relationship and this JV perhaps further cements that?