Gail Chiasson, North American Editor
This App is expected to be a major help to college students needing to access information: Houston-based Questia, provider of what is believed to be the world's largest online library available to end consumers, has made its entire collection available through a new research application for the iPhone and iPod Touch.
The Questia Library App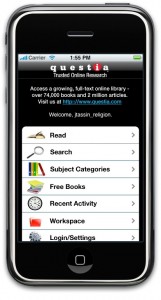 provides mobile access to the full text of 74,000 books and over 2 million journal, magazine, and newspaper articles. The collection consists mostly of copyrighted works and is selected and organized by professional librarians to facilitate academic research in the humanities and social sciences.
"The research process is becoming increasingly mobile," says Sean Sullivan, product manager at Questia. "Questia Library enables students and other researchers who are on the move to search, browse, skim, and read a large and valuable collection for the same price they might pay for a single ebook. Questia Library delivers amazing resources all in the palm of your hand."
The application makes browsing for research purposes easier than ever, allowing users to quickly navigate Questia's subject category schema and drill down to one of 6,700 research topic pages, such as psychology of war or magical realism, where they can view the top librarian-recommended books and articles for that topic.
In addition to having mobile access, Questia Library users can log in to their accounts through any computer with an Internet connection and access Questia's full suite of research tools to create project folders; quote and cite publications; generate automatic bibliographies; bookmark pages; add items to a bookshelf; take digital notes; and highlight text. The bookmark, bookshelf, and view highlight features are available in the application now with the other tools scheduled to release in a later version.
Questia Library for iPhone/iPod Touch is now available from the App Store in iTunes for 99¢, giving users permanent access to 5,000 public domain books and one week of access to every publication in Questia Library. After one week, users may purchase additional access to the full library through iTunes on a non-recurring basis.
Questia partners with over 325 leading publishers to provide the world's largest online academic library and research resource to end consumers on a subscription basis. Students, instructors, and lifelong learners in more than 200 countries use Questia's collection of full-text books and articles for scholarly research.
Questia's unlimited, 24/7 access allows researchers to simultaneously use every item in its library from any connected corner of the world.
Founded in 1998, Questia also provides Questia School, a teacher/student resource center that incorporates the digital library content with K12 class instruction and is designed for use by educators and students to enhance curricula.