Adrian J Cotterill, Editor-in-Chief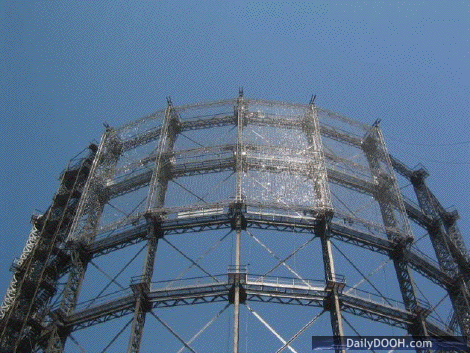 This may be large, okay VERY large – it's 35 metres long x 20 metres high but it can ONLY be seen at night so whilst it looks great we really don't think it can be rated as the largest commercial screen in Europe – that honour still MOST DEFINITELY falls to Ocean Outdoor' screen in Liverpool at 31 metres in length by 7 metres high.
The screen is in Berlin, installed on an old gasometer by a company called 'satis&fy' for Ströer Megaposter. If you look carefully in the picture above you will seen the screen 'tiled' so to speak in 8 of the X frames.
Gerd Henrich, CEO of Ströer Megaposter told us "The illuminated advertising makes possible … animated pictures and videos. It will light the sky above Berlin-Schöneberg and will gradually make its contribution to the gasometer's refurbishment"
It's driven by 42media group's web-based "Oxygen Media Platform"