Adrian J Cotterill, Editor-in-Chief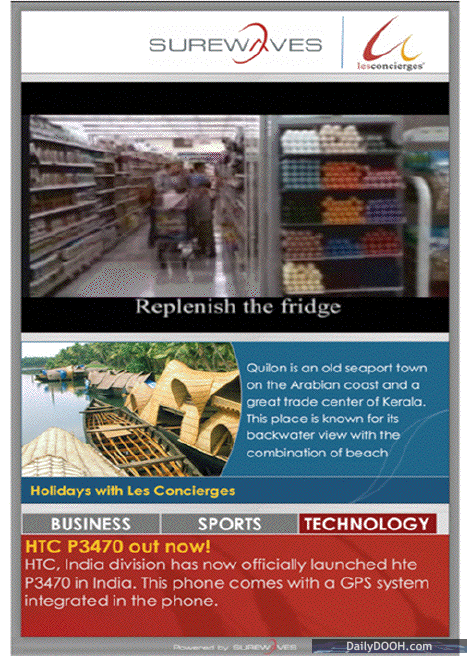 SureWaves describes itself as a 'next generation media convergence pioneer' and they say they combine the power of Digital Displays, Mobile Phones and Web in a unique manner with a core philosophy of providing "Oxygen for Minds" to an audience!
Here we see Surewaves partnering with Les Concierges a provider of global, concierge-supported loyalty services and solutions.
This sort of installation looks like a good opportunity to deliver communication to the corporate audience that, especially in India, is brand conscious, technology savvy and affluent
Within India we have seen Listerine sponsored Dental camps, L'Oreal Skin Analysis Fairs, International Womans Day sponsored by Ponds and many others.
Atul Ghosh, National Head , Les Concierges (Live) told us "We have evolved a completely dedicated channel to allow our clients and their employees to savour a far more focused and value based driven experience. Les Concierges Live will work with SureWaves to ensure that these benefits are widely broadcasted in office sites, allowing our client companies to fully draw on our capabilities to help them drive a more loyal and productive employee force."
We believe that there are as many as 100 of these installations across India with companies such as Accenture, Aditya Birla Group, Dell, GMR, IBM, KPMG, Sasken, Synopsis, Tech Mahindra, Tata Motors, Wipro etc.
About Les Concierges

Les Concierges provides enterprise workforce and customer management solutions and services that help companies drive increased profitability. Its workforce-focused services bring solutions to an entire employee lifecycle – from recruitment to retirement. Its solutions are offered on a monthly subscription basis and help corporations effectively maximize productivity, engagement, and satisfaction by applying business discipline to key processes. Les Concierges services are deployed across the globe with hubs in 13 cities in India, Dubai (covering the EMEA region) and Singapore servicing the far East. Its concierge services in India are at the premises of its customers at over 500 worksites, an additional 1500+ desks on other business solutions comprising corporate receptions, hotels, airports & other customer centres, with an average annual growth rate of over 50%. Globally, Les Concierges operates a luxury brand of concierge service : CLUB CONCIERGE : which manages luxury concierge services to very high end brands such as Tiger Woods, Dubai First etc.