Gail Chiasson, North American Editor
Clear Channel Airports, a leading marketer of airport advertising, has teamed with Geodelic, a Santa Monica-based tech start-up, to create FLYsmart, a free location-based mobile app that allows air travelers to quickly locate services and amenities in terminals, as well as browse live feeds of arrival and departure information.
As part of Geodelic's extensive network, FLYsmart intuitively maps and displays all the immediate information, busy air travelers need to locate anything from newsstands, gift shops and restaurants, to terminal information, restrooms and more. With just one touch, the map enables travelers to navigate concourses. Another touch can show hotels and services around the airport and even access information about the current city for travelers.
FLYsmart is the first product from this partnership. Rahul Sonnad, founder and CEO of Geodelic, says, "Combining Geodelic's advanced location services technology platform and user engagement features with Clear Channel's comprehensive airport presence has enabled us to create the most powerful, relevant and useful product in its genre."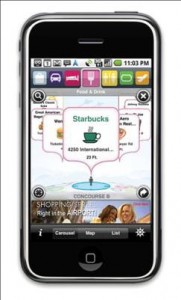 FLYsmart is available for free download for the iPhone smart phones, with an Android version expected to be released soon. A BlackBerry version is slated for release in early Fall. The app has been launched in 10 of North America's largest airports including Atlanta, Boston, Chicago O'Hare, Dallas Fort Worth, Denver, Detroit, Philadelphia, Phoenix, San Francisco and Seattle.
New airports, of all sizes, will be added each week.
Headquartered in both Chicago and in Allentown, Pennseylvania and dedicated to airport advertising for more than 30 years, CCA is the premier innovator of contemporary display concepts that currently handles more than 200 airport programs across the globe. CCA has a presence in 32 of the top 50 U.S. markets with major airports.