Adrian J Cotterill, Editor-in-Chief
One of London's earliest and most iconic roadside digital installations is getting an upgrade. A spokesperson for JCDecaux told us "As part of its continued investment into its digital estate, JCDecaux will upgrade the iconic M4 Torch, replacing the two digital screens with state-of-the-art LED screens. The new screens will be available from 11 October 2010".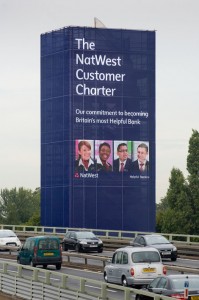 The upgrade will provide two (6.75m x 4.5m) screens with a 10mm pitch, delivering an image that is 3 times the quality of the existing screens, keeping the Torch at the forefront of digital outdoor – no news yet on what manufacturer that is.
Spencer Berwin, Managing Director – Sales of JCDecaux told us "The M4 Torch was the first superstructure in the UK, it went digital in 2007 and it continues to lead the way in roadside digital outdoor. This investment underlines JCDecaux's commitment to providing clients with the very best display, providing flexible outdoor campaigns that deploy latest in digital technology."
During the upgrade process, the Torch is wrapped with a creative from Nat West, in a campaign booked though MediaCom and Kinetic.
The M4 Torch stands on the busiest stretch of road between the City and Heathrow Airport and provides 1.8 million impacts every week and an audience that is 67% ABC1. One of the four London 'wealth corridors', the M4 leads to Berkshire, home to 2.6% of the UK's wealthiest consumers.