Gail Chiasson, North American Editor
Founded quietly last May as a new wholly-owned subsidiary of STRATACACHE, New York-based enVu will be officially launched tomorrow, ready to show off and attract advertisers to its first product which is called enSpire.
Using immersive gestural interactive projection technology to display digital advertising on the floor while engaging consumers within key retail locations in the Top 20 DMAs across the U.S., enSpire has ALREADY been installed in 85 malls, with plans to be in 170 malls by the end of October, and 215 by mid-2011. Four major real estate companies owning malls are already on board.
enVu is headed by CEO Benjamin Mathieu, former CEO of course of Neo Advertising Canada (recently sold to Traffic), and earlier with BroadSign (all based in Montreal).
We talked exclusively to Mathieu about enVue, enSpire and plans for the future.
"Our focus is immersive interactive digital signage," Mathieu says. "We expect to be the only ones with permanent installations across the U.S.. To do this, we are buying all components from suppliers and doing everything ourselves, including selling the advertising. And we are developing partnerships with malls for the permanent installations. Our priority is malls but eventually we want to move into airports and then into retail."
Each installation involves a ceiling projector focused on a 6' x 8' flat-framed floor area in each mall's highest traffic spots.
When someone moves a hand over the projection or moves onto it, it is interactive. A loop will show news, sports and weather on the floor, which will also have as many as 10 ads of 30 seconds to 45 seconds.
While most mall projection technologies only allow consumers to see an ad changing with animation, enSpire Mall Media 3.0 allows consumers to interact with the advertisement itself. The product, we are told, has proven stopping power.
We were immediately reminded of floor installations by GestureTek and, sure enough, GestureTek is one of the suppliers, as are Christie Digital, STRATACACHE with their Activia for Media software and Sony's Convergent Media for mall installations.
"What makes us different is not only that we are putting in permanent installations, but that everyone involved has up to 10 years experience in digital signage," says Mathieu. "Also, we have the size of a group like STRATACACHE behind us, and we have no need for outside investors.
"And we are offering advertisers 1.5 billion annual viewership, once the 215 malls are installed by mid-2011."
enVu is currently negotiating deals with unnamed advertisers in the entertainment, telecom, banking, consumer electronics and big box retailing sectors.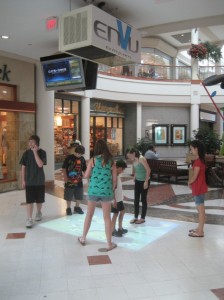 "Working in DOOH for more than eight years, I've been able to regroup some of the most talented, experienced professionals for the enVu team," says Mathieu.
"Our exceptional team and the symbiotic synergy with STRATACACHE will quickly lead enVu into the forefront of the DOOH media space."
The company currently has a staff of 17, in operations, sales, accounting and marketing. Jon Keller, vice-president sales is located in Chicago, with staff in Los Angeles, Chicago and San Francisco, and enVu is looking to hire two sales people in New York.
An agreement has been made with Arbitron for measurement, and that measurement will help the company know how to best target specific demographics. At the beginning, enSpire is expected to most attract children and the 18-34 group.
"Our vision: We want to dominate and be the aggregator in the mall space," says Mathieu.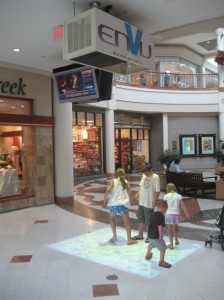 The efficient deployment process design by Jimmy Abraham, vice-president of IT and operations, is permitting enVu to implement 20+ installations in malls per week. Even during difficult times, mall traffic has remained consistently high. A typical consumer visits a mall 36 times a year with an average visit of 78 minutes.
However, enSpire isn't stopping with the mall product. It will move into airports and is already looking at a vertical wall product for the future. enVu envisions future growth to 5 billion annual viewers in key DOOH venues by 2013.
In a note from Chris Riegel, enVu chairman and CEO at STRATACACHE, he told us "enVu will become a global player in the digital out-of-home space. Eventually, we will be seen not only in malls, but in other key consumer environments. And, while the U.S. is the primary market for enVu, we are already exploring opportunities around the world."