Gail Chiasson, North American Editor
Civil War: America's Epic Struggle App from MultiEducator Inc. New Rochelle, N.Y., is a comprehensive interactive zooming technology multimedia course in American history.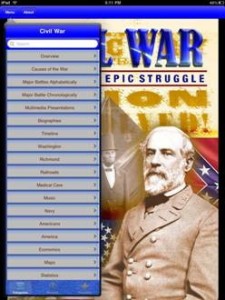 Civil War App contains a diverse, comprehensive multimedia collection of the most important documents, maps, and photographs in the history of the Civil War at a tiny fraction of what textbooks and documents would cost. It gives users instant access to hundreds of original documents, photographs, maps, video, presentations, and even statistics.
More than just an eBook with links, the program contains interactive audio and visual educational features that can only be experienced with Apple iPod and iPad technologies.
Publisher Marc Schulman says, "The enhanced visual and zooming technologies built into the Apple iPad are adding whole new interactive dimensions to the teaching of history."
When you open the app, the information can be sorted and organized 18 different ways. There are documents, maps, video and data tables. Categories of information cover things like battles, navy, rmies, economics, railroads, music and more. They can be sorted chronologically or alphabetically.
When you tap on Major Battles, you can change how the battles are sorted. If you tap on a category, a listing opens up telling what else you can access. Tapping on the name of a specific battle, such as Fort Sumpter, brings up more choices and you can choose from text summaries, to multimedia presentations, to text articles on various aspects and reports of the battle to field maps, to a dozen or more photos.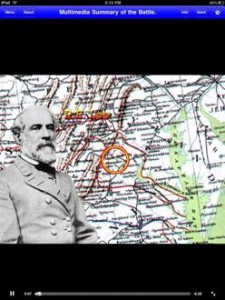 You can zoom the photos, turn directions, watch screaming high-definition color videos with special effects in more or less detail for each of 26 different battles.
"It brings education alive in ways people have not imagined," says Schulman.
This App, selling for USD 4.99 takes a lot of memory – 248 MB- but with over 1,000 high quality photos (all of which you can zoom into), one hour of multimedia presentations, over 100 high quality maps; and dozens of 'first-hand' accounts, it can be fascinating for both the student and the history buff. It even lets you email your 'favorites' section to a friend.
Marc Schulman has been an Apple Developer since 1982. He developed a few of the very early Mac products. For the past 27 years he has been developing software products including a line of Multimedia history CD and now DVD Roms. He calls himself a Multimedia Historian.