Gail Chiasson, North American Editor
Jeep brand and JiWire, San-Francisco, location-based mobile media company reaching the on-the-go audience, have partnered to launch a unique in-app advertising campaign through JiWire's Wi-Fi Finder as part of Jeep's Grand Cherokee national mobile campaign.
The Wi-Fi Finder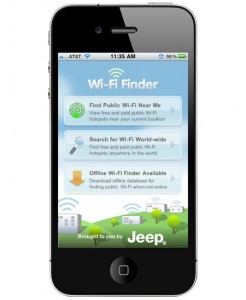 enables mobile users to find local hotspots through JiWire's directory of more than 315,000 locations, offering a geo-targeted platform for advertisers. This is the first exclusive brand sponsor of the Wi-Fi Finder app – a top 100 app and top 10 travel app in the iTunes store, which has already been downloaded more than 8.5 million times by the mobile audience.
The Jeep brand has become the first 'presenting sponsor' of JiWire's Wi-Fi Finder to complement its national ad campaign in hotels, airports and other premium venues. And the brand is one of the first advertisers to message and engage users when they connect on a laptop, tablet or smartphone across JiWire's media channel.
The Jeep brand is promoting its all-new 2011 Jeep Grand Cherokee on the initial landing page of the Wi-Fi Finder, as well as throughout the mobile app, reaching millions of engaged consumers through this cross-channel approach. The campaign enables Jeep to engage consumers by giving mobile users access to browse the online inventory of new Jeep brand models and seamlessly engage with social networks through the app's integration.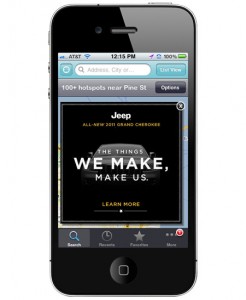 The Jeep Grand Cherokee's campaign is built around balancing legendary Jeep 4X4 capability with American craftsmanship to deliver a premium driving experience for all adventures. The mobile app sponsorship is providing an ideal medium to convey this message to an affluent, active and captive audience in a visual and socially interactive way.
"Mobile advertising has evolved to be far more about audiences and on-the-go behaviors and less about specific devices or technology channels," says David Staas, JiWire's senior vice- president of marketing. "Jeep understands the value of targeting both mobile and online channels to provide the necessary scale in reaching its target audience."