Adrian J Cotterill, Editor-in-Chief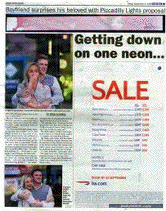 Land Securities told us recently "We were approached a few months ago by a gentleman who wanted to use the Lights to propose to his girlfriend" – the 'Lights' they are referring to being the giant screens in Piccadilly Circus, London (for which Clear Channel sell the advertising).
Anyway, last Friday's Metro (free London newspaper) picked up the story and wrote 'Getting Down On One Neon' which follows on somewhat from earlier in the year when Land Securities ran a Valentine's Day 'LoveLite' promotion – where members of the public were invited to post a message on the Piccadilly Lite sign.
The upshot of all this was that Sam Ornbo proposed to his partner of five years Annuszka on the Thursday evening and she said 'YES'.
Visually it was all very exciting and a real first – the LED was pre-programmed with a bespoke message and imagery and there was even a vibrant set of colours for the sequencing too, so it really stood out against the bustle of Piccadilly!
Land Securities has owned the iconic site at Piccadilly Circus since the 1970s, but the Lights have never been used for a proposal message. The message ran twice at 7.30/ 7.32/ 7.35/ 7.40pm.