Adrian J Cotterill, Editor-in-Chief
Regular readers will know that one of the services we offer is twitter hashtag reporting. We trap every tweet for industry shows (not as easy as it seems as Twitter only shows search results for 5 days worth of archives), store them in a database and then analyse them all (not manually we might add – though we do get to look at some of them as you will see below).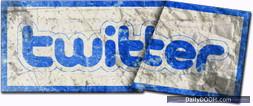 We then slice and dice everything so we know what sort of people are tweeting (we categorise them into exhibitors, punters, press, corporate, robots etc) and as you will have seen from all of our charts we figure out who has tweeted the most and most importantly compare the social media traffic between all the different shows.
Anyway, having nearly finished the report for #ibc2010 (which we will probably publish next week after it has gone to a couple of clients first) we came across this stream of twitter which we thought was hilarious…
AMS bound!!! 7:28 PM Sep 10th via ÜberTwitter
In the pub innit. 11:32 PM Sep 10th via ÜberTwitter
Wrecked up #ibc 2:03 AM Sep 11th via ÜberTwitter
#ibc – we have had 600 eur of drinks, lap dances, JT cut me with a bottle and its fucking late here. Best, conference, ever. 5:13 AM Sep 11th via ÜberTwitter
#ibc – hangover headed to the show see you in hall 7. 12:24 PM Sep 11th via ÜberTwitter
#ibc – also, JT punched me in the face last night. Knobber. 12:36 PM Sep 11th via ÜberTwitter
I got so hammered last night at #ibc that I fell in the bloody canal. FAIL – today my right shoe is still wet.     12:59 PM Sep 12th  via ÜberTwitter
Surely, it could only be a Brit!!!