Gail Chiasson, North American Editor
Infiniti customers throughout Europe can now be completely immersed in the Infiniti brand the instant they walk into any of the automotive manufacturer's 27 showrooms that have been newly equipped with digital signage.
Customers are
welcomed by modern architecture with inspiring aesthetics, a personal greeting and a sophisticated interactive system that puts customers squarely in the driver's seat to design their very own dream machine.
Infiniti contracted with Scala Certified Partner Soft Audiovisuel to create Infiniti Europe's digital showroom and underlying platform, i-view – a suite of digital services designed to complement the vehicles, the environment and the salespeople by offering a range of interactive audio-visual information to customers. Through i-view, customers can see, review and personalize car options depending on their personal preferences, and they can do so with or without the consultation of an Infiniti sales consultant.
Videos of Infiniti's full range of car models, colors, options and accessories are accessible through the new digital signage system powered by Scala 5. Customers control the experience with options to pause the video and interact with the content to select and change various car options such as interior trim, body color, wheel design and accessories. Then, with the help of a sales consultant, customers can see the paint color and finish, feel the trim or the upholstery and, if necessary, compare this to a car in the showroom.
The first 27 showrooms equipped with i-view have already been gaining in popularity by customers who are attracted to the high level of one-on-one interaction, variety of choices and fun, digitally masterminded personalization. Infiniti has seen a significant increase in customer visits since rolling out the network, and plans to roll out i-view to all 80 of its showrooms by 2012.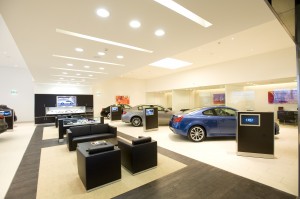 "We wanted to provide our customers with a clear and meaningful way of engaging our brand through the use of our centers as experiential touchpoints," says Nha Thi Liew, customer quality manager, Infiniti Europe. "The digital component was designed to complement, simplify and add value to that experience, and we're pleased to say that our customers agree that their experience has been enhanced by the adoption of this digital marketing technology."
Soft Audiovisuel partnered with Scala to provide complete end-to-end digital signage, interactivity and content management software plus additional consultative services. Scala implemented its suite of content creation and asset management systems to enable Infiniti and its marketing partners to control the creation and distribution of specific content to all participating dealerships.
Using the Scala system, all content is created by Infiniti's marketing teams for use throughout the network. It is then scheduled and distributed to Infiniti centers through a satellite distribution platform. Scala designed the system to unify a wide range of content both from single sites to groups, and to cater for a variety of languages. This technical flexibility ensures that Infiniti's content creation and management is as tailored as possible to the needs of each showroom.
"The complexity of Infiniti's i-view system belies its outward simplicity, which is sublime to look at and easy to use," said Oscar Elizaga, vice-president of Scala, EMEA. "It enables customers to totally immerse themselves in the brand by virtue of the digital technology, carefully specified and deployed to simplify the car buying process."