Adrian J Cotterill, Editor-in-Chief
Light Blue Optics (LBO) earlier this week announced that it has raised USD 13 million in funding – the money being used to accelerate its product development roadmap for embedded interactive projection devices.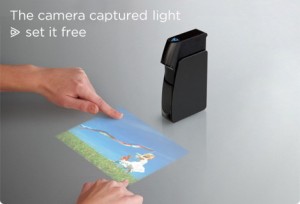 Whilst this investment round was led by DFJ Esprit, existing investors Robert Bosch Venture Capital GmbH, Earlybird Venture Capital, Capital-E and NESTA also participated and were joined by new investors Christie Digital Systems Canada Inc. and WhiteGold Fund Management (WhiteGold).
Bob Rushby, Chief Technology Officer at Christie Digital Systems Canada Inc. told us "As a world leader in the electronic display industry, Christie was among the first to recognise the unique benefits of HLP™ technology and the vast market opportunity it represents. We've been engaged with Light Blue Optics for some five years now and are delighted to become investors at this exciting time as this opens up entirely new opportunities for electronic displays."
Ekaterina Yakovenko, Managing Director and head of Private Equity division, WhiteGold added "Light Blue Optics presented us with an opportunity to invest in one of the most exciting display technologies of recent times. From the moment we first used Light Touch™, we understood how this device revolutionises the way we interact with content. It's a game changing technology and we're pleased to join the existing investors of this visionary Company as they fast track their roadmap towards Gen 2 products that are even smaller, brighter and more efficient."
Light Blue Optics' CEO, Dr. Chris Harris was quoted as saying "This $13 million financing round will enable us to continue to capitalise on the enormous customer interest in our first products Light Touch™ and Light Work™ whilst also driving ahead with our development programme for embedded products that deliver three times the brightness of a typical tablet screen using only half the power."
"These products have the potential to fundamentally change the way we see and interact with the world, bringing virtual touchscreens to every and any surface. Our customers, partners and investors are enabling us to realise that potential and our vision to become the world's leading supplier of miniature projection systems."
Trust us, this is quite exciting!