Adrian J Cotterill, Editor-in-Chief
Ocean Outdoor have just launched the first full-motion digital screen in Birmingham city centre near the famous Bull Ring.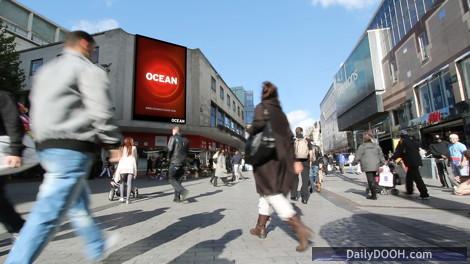 The contract was awarded by Scottish Widows Investment Partnership (SWIP) and aims to maximise advertising income for the new full-motion digital screen located at the premier shopping location New Street @ The Bull Ring.
The screen situated at City Centre House overlooking the external Bullring area will be Birmingham's most iconic digital screen in a high dwell-time pedestrian location. This stand-alone location is one of the most sought after advertising sites in Birmingham.
Tim Bleakley, Chief Executive – Ocean told us "Very few sites meet our selective criteria; all Ocean sites have a unique natural pull and the City Centre House Screen is very much in the Ocean family of sites. We are delighted to be working with Scottish Widows Investment Partnership to develop and grow digital out of home advertising opportunities in Birmingham."
The new site will sit alongside Ocean Outdoor's full-motion digital spectacular network, which includes Liverpool city centre's Media Wall and London Westfield's Eat Street.