Gail Chiasson, North American Editor
Tourists and residents enjoyed a visual treat during the Commonwealth Games 2010 in Delhi, India: In partnership with Doordarshan, India's public television broadcaster, and with technological support of Scala India, International Technomedia presented live broadcasts of the Games on large format outdoor video screens installed in key commercial spots in Delhi.
This marked the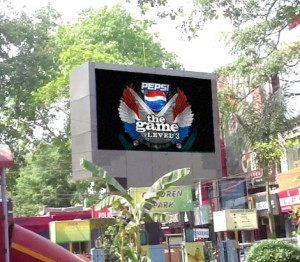 first time that live telecasting of the Games was outside of the sports stadiums, enabling 'the common man' to view the event. ITM's outdoor Delhi network is the largest one-city-network in the Asia-Pacific region.
The content on the ITM LED screens was powered by Scala, which set up a flawless live broadcast of the opening ceremony of the event on several of ITM's outdoor screens that are normally used for advertising.
In a joint effort, ITM and Scala India drove content to the screens using the services of a data center that was located hundreds of kilometers away from the screens. The content consisted of a continuous live broadcast of the Games combined with various advertising spots that were shown in a 10-minute sequence alongside the broadcast.
"The broadcast of the Commonwealth Games on our outdoor screens in this short time frame could not have been possible without the guidance and astonishing support of Scala India," says Kunwar Ajay Singh, senior executive vice-president, ITM.
"We are very happy with the implementation and the response it received," says Jahan Kadhar, managing director, Scala India. "The results are a reflection of the power of the Scala platform and the immense flexibility it provides for innovation. At the same time, it also shows the commitment and expertise of our team in the field of digital signage."
While the Games' live feed might not hold any significant commercial value for ITM, a long term strategic partnership may be worked out with partners subsequent to the Games for a long-term tie-up. The national channel is considering plans of beaming different programs on the ITM LED screens well after the Games. Scala India is working closely with ITM to elevate the screens from being just large displays for commercials to a platform that offers advertisers and consumers an overall interactive and responsive viewing experience.
ITM is the only company in India providing information and advertising services on large outdoor video screens in New Delhi.