Adrian J Cotterill, Editor-in-Chief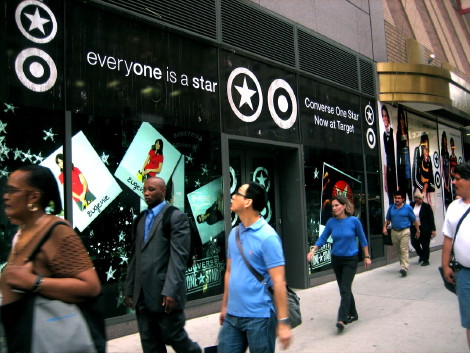 If any more evidence was needed that in retail the trend is interactive large screen window displays look no further than Target, here seen in Manhattan with another interactive display, this time created by Inwindow Outdoor.
This particular display, know as a Storescape, utilises street-level vacant retail space and is located at 1035 Sixth Avenue. It's been designed to promote the availability of Converse footwear at Target stores.
Steve Birnhak, CEO of Inwindow Outdoor told us "Target has worked with us in the past utilizing our vacant storefront advertising and their decision to now add the interactive component is yet another demonstration that major national brands see the Storescape concept as one that generates awareness and maximizes available marketing dollars"
He added "We are creating displays with increasing levels of technology intended to capture and keep the attention of a passer-by to a greater extent than any static billboard could. The Target display is another example of how we are able to transform vacant retail space into something valuable and memorable."
Similar to other installs, as pedestrians walk past the display, photos pop up in the window following the people along the way, making it virtually impossible to ignore the advertisement.
The Target display will run through the end of the month and was created in conjunction with Residence Inn by Marriott, the City of New York, the Bryant Park Business District, Monster Media and Haworth Media.